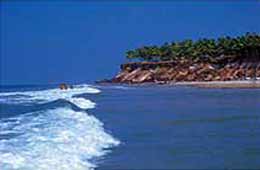 What makes tours to Varkala in Kerala exceptionally fascinating is the dreamy and spectacular locale of the place. Towering cliffs lapped by sea-waves on the coast, the slivery beaches, the romance of the azure water with the crimson soil of the hilltop and the vast expanse of the emerald paddy fields fringed by coconut plantations in Varkala in Kerala —epitomize the notion of leisure tourism in Kerala .

Unlike other tourist sites in Kerala , the serene ambience of Varkala never gets diluted due to overcrowding of tourists because even the people who flock here, are in mood of idyllic holidaying.

Tourist Attractions in Varkala

• You must visit the 2000 years old Sree Janardhana Swamy Temple built since the 12th Century

• Sivagiri Mutt is the samadhi (memorial) of Shri Narayana Guru, spiritual leader and social reformer of Kerala, whose discourses were conducted mainly in and around Varkala.

• Papanasam Beach draws a lot of tourists for watching sunset .

• The main beaches in Varkala are located on the top of the cliff overlooking the Arabian Sea and is about 7 minutes walk from Sree Janardhana Swamy Temple .

How to Reach Varkala

• Varkala is just 51 km from Trivandrum international airport and 176 km from Cochin international airport. So you can fly down to either of the airports

• Varkala railway station is 3 kms from the popular area of Varkala

• You can also drive to Varkala or take a bus either from Thiruvananthapuram or Kollam

IndiaProfile.com leads you to the tours in Kerala. IndiaProfile.com also offers you online booking for Tours to Varkala . To book the tour or for more information, please fill up the form below.