About Pathiramanal: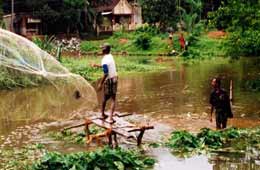 A beautiful tranquil island on the backwaters of Kerala, covering a stretch of 10 acres is Pathiramanal in Alappuzha. This island on the Vembanad Lake is the abode of hundreds of rare varieties of migratory birds who gather here from different parts of the world. This island lies in between Thaneermukkom and Kumarakom. The meaning of the word Pathiramanal is sands of the night and it is the ideal place for recreation.

Tourist Attractions in Tour to Pathiramanal

The major tourist attraction in Pathiramanal is the picturesque island and the wide species of migratory birds that make this place their home during winter. It is also a favorite location for houseboat holidays.

Accommodation in Tour to Pathiramanal

Accommodation in Tour to Pathiramanal is available at the
Pathiramanal Lake Resort.

How to reach Pathiramanal

Pathiramanal is only accessible by boat since this island is located in between Thaneermukkom and Kumarakom. A boat takes about a hour while a speed boat takes half an hour to reach this beautiful island. It is on the Kumarakom-Muhamma water route. Cochin International Airport and Thiruvananthapuram Airports are closest to Pathiramanal.Alapuzzha Railway Station is the nearest railhead.


Indiaprofile offers information and online bookings for Tour to Pathiramanal. For further information or to book a tour, please fill up the form below.