About Ochira: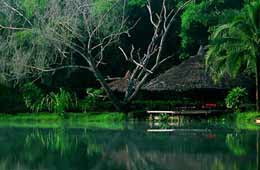 Ochira is often referred to as the 'Dakshina Kashi' in the religious world. This small and enchanting town of Kollam district in Kerala, attracts hundreds of tourists such as pilgrims, business travelers and casual visitors who are frequently on a tour to Ochira. The unique feature about Ochira is the fact that in spite of bearing a contemporary outlook, this town has been able to hold on to its rich tradition and culture. It speaks of social and cultural harmony and consequently is one of the most visited towns of Kerala.

Tourist Attractions in Tour to Ochira

The tourist attractions in Ochira are quite a few. These are


Parabrahma temple, spread across 36 acres of open lands.
Amrithapuri Ashram, the famous ashram is 10 km from Ochira
Hub of major drama troupes of Kerala

Accommodation in Tour to Ochira

For accommodation in Tours to Ochira, you can avail the hotels in Kollam. Some of these hotels are


Hotel Railview
Hotel Aquaserene
Hotel Sudarshan

How to reach Ochira

Ochira is located in the border of Kollam and Allapuzha districts .It lies adjacent to National Highway 47. The two nearest airports are Thiruvananthapuram which is 10 km towards the south and Cochin, 130 km to the north. There are pre paid taxi services available from the airport. The closest bus stations are Kayamkulam, 5 km north of Ochira and Karunagapally, 10 km south.


Indiaprofile offers information and online bookings for Tour to Ochira. For further information or to book a tour, please fill up the form below.