About Tour to Kodanad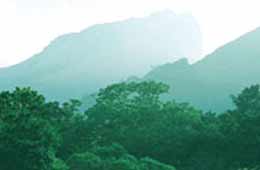 3o km from Ernakulam, on the high ranges of the Sothern bank of the Periyar River lies Kodanad, a fascinating and charming semi rural village. This beautiful place in Kerala is well known for its elephants and it is the high ranges around this place which is the training ground for the elephants. Elephants here are trained for safaris and provided with saddles for riding. This place is also well known for the beautiful river banks and the side walks along the riversides which give a magical and refreshing experience to the visitors on Tour to Kodanad. The Eco Tourism campaign of the government recently added Kodanad in its list of eco tourism destinations.

Tourist Attractions in Tour to Kodanad

Tourist Attraction in Kodanad include


Malayatoor Church
Elephant safaris
Mini zoo
Punnathur Kotta, grooming ground for elephants
Kaprikad, a popular picnic spot a few kilometers from Kodanad. Accommodation in Tour to Kodanad

There aren't many places for accommodation in Kodanad .The one popular private accommodation provided for tourists here is the River Front Resort.

How to reach Kodanad

To reach Kodanad by train, the nearest railway junction would be Alwaye, 28 km west from Kodanad. The Cochin International Airport, 65 km away is the closest airport to Kodanad.The closest town to Kodanad is Perumbavoor which is connected to Kodanad by regular passenger buses.

Indiaprofile offers information and online bookings for Tour to Tour to Kodanad. For further information or to book a tour, please fill up the form below.