About Tour to Pamba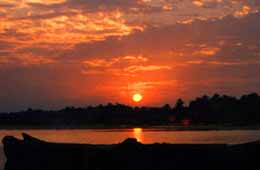 The River Pamba meanders its way through the state of Kerala. A Tour to Pamba will enable you to see the quiet and tranquil flow of the river. It is an absolutely mesmerizing sight. Words cannot express what a beautiful sight it is to behold the Pamba River in front of your eyes.
The Pamba is the third longest river in this state. The source of the Pamba River is the Pulachimalai hills in the Peerumedu plateau of the Western Ghats. If we trace the journey of this river, we will see that it passes through Ranni, Thiruvalla, Changanassery and Ambalappuzha Taluks before finally disappearing in the Vembanad Lake. To the east of the River lies the mighty Western Ghats. The Manimala River Basin is its northern frontier and the Achankovil River Basin forms the southern boundary.
Sabrimala, an important pilgrim center is located on the banks of the Pamba River. Thousands of devotees come here each year to offer their prayers to the temple of Lord Ayyappa. On their way to Sabrimala, Pamba is an important halting point. Each year men come and men go but the Pamba River continuously flows and witnesses the kaleidoscope of activities taking place on its banks.
The Perunthenaruvi Waterfall is also located on the banks of this river. On a Tour to Pamba, you can see this gorgeous waterfall plunging into the river.
The Pamba River is not just a visual delight. It helps in cultivation by irrigating the agricultural fields. It is the major source of water supply to Kuttanad which is the prime rice cultivating area of Kerala.
How to reach Pamba
If you are interested in a Tour to Pamba, you will have to come to Pathanamthitta town. The nearest rail link is about 30 km away at Tiruvalla. If you are interested in availing the roadways, you will face no difficulty because Pathanamthitta is well connected by road to the important centers of Kerala. The nearest airport is at Kochi.
Indiaprofile provides detailed information on Tour to Pamba in Kerala and offers online booking for Tour to Pamba in Kerala. To book a hotel or a tour package or for more information please enter your queries in the form below