About Pandalam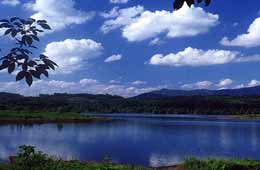 Pathanamthitta has rightly been labeled as the headquarters of pilgrimage tourism in Kerala. In this small district in the state of Kerala there are several pilgrim centers. Pandalam is one such holy center which is frequented by a large number of tourists each year. It is second only to Sabrimala in importance and holiness.
According to legend, a Pandya king purchased land from Kaipuzha Thampan, a local landlord and left his state of Tamil Nadu to settle here. It is believed that his son is an incarnation of Lord Ayyappa.
Tourist Attractions in Tour to Pandalam
There are many ancient castles in Pandalam. Sacred ornaments which belong to Lord Ayyappa are kept in the Pandalam Palace. Every year three days before the Makaravilaku festival these ornaments are taken in a procession from Pandalam to Sabrimala, the abode of Lord Ayyappa.
The Valiyakoikal Temple located on the banks of the Achenkovil River bears a great deal of resemblance to the shrine at Sabarmati. This temple has enhanced the sanctity and significance of this religious place. Offerings to the lord are given on a regular basis by localites as well as visitors. You can do the same on your Tour to Pandalam.
Accommodation in Tour to Pandalam
There are many hotels belonging to the private sector in Pandalam. Mention worthy among them is the Shines Hotels and resorts. So you will surely not face any problems of accommodation if you plan a Tour to Pandalam.
How to reach Pandalam
If you are interested in traveling by train, the nearest railway station is at Chengannur at a distance of about 14 km. The nearest airport is at Thiruvananthapuram. Pandalam is well linked by road to the other important towns of Kerala.
Indiaprofile provides detailed information on Tour to Pandalam in Kerala and offers online booking for Tour to Pandalam in Kerala. To book a hotel or a tour package or for more information please enter your queries in the form below