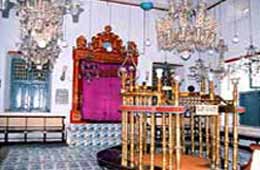 Kochi in Kerala , a sea coast town , is located on the west coast of India. Popularly known as the Queen of the Arabian Sea, this area is a collection of islands and narrow peninsulas which spreads across 87 square kilometers. Ernakulam is the business centre and forms the main land. With the finest natural harbors in the world, it is one of the most fascinating tourist sites in Kerala.

With Portugues invasion initiating the series of settlements in the place, Kochi offers a hoard of historical and cultural fineries that change the definition of tourism in Kerala. So during tours to Kochi—you can look forward to enriching experiences to feast you heart, mind and soul.

Tourist Attractions in Kochi
Fort Cochin was built by the British to protect against possible attacks by European rival powers. Thus you will relish the grand European architecture across the buttress.
Visit the St.Francis church where Vasco Da Gama was initially buried in 1526 and later shifted to Portugal
The Dutch palace at Mattancherry displays wall murals done with the tempera process of painting.
Parishath Thampuram Museum has n ineteenth century old coins, sculptures, Mughal paintings, temple models and oil paintings.
You should also visit Lighthouse at Ochanthuruth and the 16th-century Pallipuram Fort.
Chinese Fishing Nets introduced by the Chinese ruler Kublai Khan.
Hill Palace built in the 19th century by Raja of Kochi, now has been turned into a museum
Also visit Jewish Synagogue decorated with Chinese tiles and Belgian chandeliers.

How to Reach Kochi
• Take a flight to Cochin airport which is connected to the major cities of India.
• You can also board a train from Delhi, Mumbai and Kolkata and get down at Cochin Harbor Terminus, Ernakulam Junction and Ernakulam Town
• You can also reach here along the backwaters from other towns of the state
• As there are three national highways, so you can also drive down to this place.
IndiaProfile.com leads you to the tours in Kerala. IndiaProfile.com also offers you online booking for Tours to Kochi . To book the tour or for more information, please fill up the form below.