About Thirunavaya :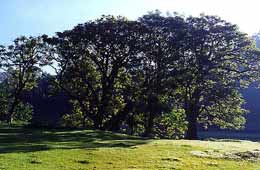 Located on the banks of the river Bharathapuzha in the Malappuram district, Thirunavaya is a beautiful holiday location in south India. The tiny village of Thirunavaya was once the capital of Perumpadapu Swaroopam.

Thirunavaya is home to the well known Mamnkam festival which is held in the Thirunavaya Temple.

Accommodation

Different kinds of hotels and lodges are available here. The hotels offer good accommodation facilities and essential amenities.

Tourist Attractions

Some of the major tourist attractions of Thirunavaya are


Thirunavaya Temple

Bharathapuzha


How to reach

The nearest airport is the Karipur International Airport in Kozhikode which is about 36 kilometers away. The nearest railway station is Tirur which is about 8 kilometers away.



IndiaProfile.com offers online booking of Tour to Thirunavaya. To book a hotel or a tour package or for more information, please enter your query in the form below.