About Palaruvi: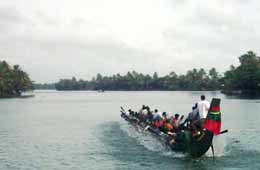 Amidst the deciduous forests of Kerala's Wayanand district stands Pakshipathalam at a height of 1740 About Tour to Palaruvi

One of Kerala's most beautiful and scenic waterfalls is Palaruvi, located about 75 km from Kollam. Palaruvi, which means a 'stream of Milk;' lives up to its name and cascades down from a height of 300 feet in gushing white foam of water. It is a favored spot for recreation for the people in Kerala and has become an important picnic spot. Trekking through the lush green tropical forest to reach Palaruvi which remains bounded by murky blue hills and verdant mysterious valleys is an enchanting experience in itself.

Tourist Attractions in Tour to Tour to Palaruvi

The major tourist attraction in Palaruvi is the beautiful Palaruvi waterfalls.

Accommodation in Tour to Palaruvi

Accommodation in Tour to Paluravi can be best obtained at Kollam, about 75 km from the area.

How to reach Palaruvi

Paluravi is located 75 km from Kollam on the Kollam-Shencottah Road.To reach Paluravi, the nearest airport would be Thiravananthapuram International Airport which is 77 km from Kollam town. To travel by rail, Kollam is the nearest station , 75 km away.




Indiaprofile offers information and online bookings for Tour to Palaruvi. For further information or to book a tour, please fill up the form below.