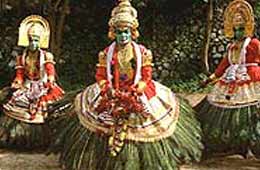 Kottayam is derived from two words- Kotta (meaning fort) and Akkam (meaning inside). Kottayam in Kerala , is a mountainous region with landscapes, backwaters, bird sanctuaries, temples and churches, that ad a fascinating note to tourism in Kerala . One of the most popular tourist sites in Kerala , this locale has a proportionate merger of low and high terrain.

Once a stronghold of Syrian Christian sect, Kottayam exudes religious heritage, beauty of palm-lined backwaters, mystery of Western Ghats and richness of rubber plantations. So pack your bags for tours to Kottayam.

Tourist Attractions in Kottayam
Peermed , is a tempting hill resort at an altitude of 1066 meters
You should also visit Periyar Wildlife Sanctuary where elephants, tigers and the bisons will impress you.
Don't miss visiting Thirunakkara Shiva Temple or Vaikom Temple associated with the legendry Parasurama , both prototypes of Keralan temple culture with the wall murals
You should also visit Kumarakom , to the west of the Vembanad Lake famous for the migratory birds
Pathiramal , meaning 'the midnight sand,' is an island on Vembanad lake , that would move you with its dreamy ambience and backwater cruises
Just 60 kilometers away from Kottayam, Wagamon draws tourist for trekking
How to Reach Kottayam
You can reach Kottayam by a ir. Fly down to Kochi airport, 76 kilometers away from Kottayam.
Kottayam is well-connected to the rest of the state and to other major cities by road. So you can just drive down.
You can also board a train from the major cities and reach here as trains regularly run from Kottayam to Thiruvananthapuram, Kollam and Ernakulam.
IndiaProfile.com leads you to the tours in Kerala. IndiaProfile.com also offers you online booking for Tours to Kottayam. To book the tour or for more information, please fill up the form below.