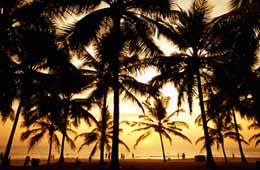 Thiruvananthapuram , formerly known as Trivandrum and the present capital of Kerala, is bordered by the Arabian Sea in the West and by Tamil Nadu in the East. Though it is vibrant with the daily din and bustle of being a capital, it carries ahead the charm and heritage of traditional culture.
Legend says that Thiruvananthapuram in Kerala , derives its name from Thiru-Anantha-Puram, meaning the town of Anantha, the sacred serpent on whom the Hindu deity Lord Vishnu rests. Since tourism in Kerala is in its booms presently and a number of tourist sites have developed, even Thiruvananthapuram is all set to attract tourists from across the globe. Tours to Kerala , drives you to explore long-preserved heritage, pulsating greenery and the mystery of Western Ghats
Tourist Attractions in Thiruvananthapuram
You must visit Padmanabha Swami temple whose gopuram (tower) soars upwards and is believed to be one of the 108 shrines sacred to the Vaishnavites
Don't forget to cruise along the waterways of Thiruvananthapuram
Kuthiramalika (Puthenmalika) Palace Museum built by Maharaja Swathi Thirunal Balarama Varma-the King of Travancore, contains rare collection of the royal family. Sri Chitra Art Gallery in the museum, contains paintings of Raja Ravi Varma, Rabindranath Tagore, Jamimi Roy, K. K. Hebar and others
Shanghumukhuam Beach is popular among the sunset watchers.
Zoological Park has a fantastic collection of trees like frangipani and jacaranda



How to Reach Thiruvananthapuram
Thiruvananthapuram is well connected with all major cities through four national highways
Yu can fly down to Thiruvananthapuram airport
You can also arrive at Thiruvananthapuram railway station connected to all other major railway stations in India.
IndiaProfile.com leads you to the tours in Kerala. IndiaProfile.com also offers you online booking for Tours to Thiruvananthapuram . To book the tour or for more information, please fill up the form below.