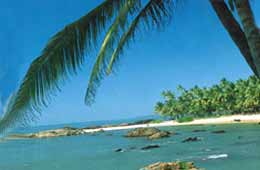 Kannur in Kerala , the sea coast town in the northern Malabar coats, is vibrant with myths, legends and history. Once the capital of the Kolathiri Rajas, it has earned reputation for handloom and beedi industries. Unlike other tourist sites in Kerala , Kannur draws its trading spirit from its Portuguese history.

However, it would be wrong to describe Tours to Kannur only as a study of history and legends. The most enchanting district of Northern Kerala kissed by the Lakshadweep Sea, decked by the palm-fringed coasts and treaded by a network of rivers, Kannur speaks for its own identity in the map of tourism in Kerala.



Tourist Attractions in Kannur

• Ezhimala hills on the sea shore, is famous for plenty of rare medicinal herbs.

• Madayi Mosque built by Malik Iban Dinar in1124 AD, displays a grand architecture.

• St. Angelos Fort built by the first Portuguese Viceroy, Don Francisco De Almeida draws many tourists for its Portuguese style

• Arakkal Palace, once the residence of Arackal Ali Rajas, the only Muslim royal family in Kerala, also is worth visiting.

• You can also visit Thalassery, a place built by British East India Company where you can find Tellichery Fort or Aralam wild life sanctuary situated in the slopes of Western Ghats

• Trek up to Paithalmala, about 1372metres above sea level on the Kerala-Karnataka border

• Pazhassi Dam is the only reservoir with gardens in the district.

• Witness Jagannatha Festival held in the Malayalam month of Kumbham at the Jagannatha Temple at Madathiparambu, near Thalassery in Kannur.

• Don't miss out Moppila Bay, the fishing harbour near St.Angelo's Fort and Payyambalam beach decorated with a beautiful park



How to Reach Kannur

• The airport closest to Kannur is at Karipur in Kozhikode, just 93 kilometers south to the district. So you can fly down here

• Kannur railway station is connected to major towns of the country

• You can also reach Kannur by road which is 155 kilometers south of Mangalore and 535 kilometers north of Thiruvananthapuram.


IndiaProfile.com leads you to the tours in Kerala. IndiaProfile.com also offers you online booking for Tours to Kannur . To book the tour or for more information, please fill up the form below.