About Payyambalam Beach: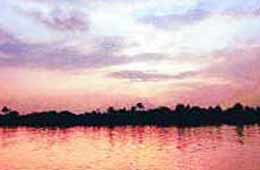 Located near the town of Kannur, the Payyambalam Beach is one of the many beautiful beaches in Kerala. The fascinating stretch of golden sands is an ideal place for recreation of the tourists. It is well known for the well constructed and laid out gardens and a gigantic sculpture of the mother and the child by Kanayi Kunhiramanin that was erected here. It is also famous due to the fact that the remains of Swadeshabimani Ramakrishna Pillai,A.K Gopalan, Pamban Mandavan and K.G Marar are laid to rest near this place. The essential plus points about the Payyambalam Beach are its cleanliness, its distance from the town and the beauty of its gardens.

Tourist Attractions in Tour to Payyambalam Beach

Being a favorite picnic spot for those on tour to Payyambalam Beach, this place has the prospective to be a worthwhile tourist destination in Kerala

The tourist attractions that brings about 2000 visitors to this beach in Kerala are


The clean wide stretch of golden beach
The lush gardens surrounding the beach
The gigantic sculpture of mother and child erected by Kanayi Kunhiramanin

Accommodation in Tour to Payyambalam Beach

For a tour to Payyambalam Beach, getting accommodation in the town of Kannur, 2 km away is ideal. There are endless number of hotels and resorts in Kannur. Some of major hotels in Kannur are
Kamala International Tourist Hotel
Hotel High Place
Malabar Residency
Mascor Beach Resort

How to reach Payyambalam Beach

The Payyambalam Beach is located in Kannur,Kerala about 92 kilometers from Kozhikode. To reach Payyambalam Beach by air, you can avail the nearest airport which is located at Karipur in Kozhikode. The Kannur Railway station is well connected with all the major towns up the country as well as within the state. To reach Payyambalam by road, there are good road links connecting Kannur to other parts of the state. National Highway 17 passes through Kannur.


Indiaprofile offers information and online bookings for Tour to Payyambalam Beach. For further information or to book a tour, please fill up the form below.