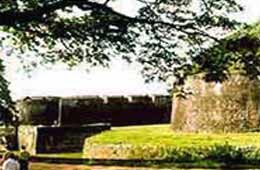 Pala is a kind of tree and Kadu means forest in Malayalam. So you can imagine that Palakkad derives it name from a forest of Pala trees. Located 79 kilometers from Thrissur and looped between Western Ghats, Palkkad in Kerala is shrouded by Nilgiri and Anamalai Hills. Popular as the 'Granary of Kerala', the district of Palakkad on the foothills of Western Ghats, is one of the sought-after tourist sites in Kerala . Valleys, hillocks, rivers, forests, mountain streams, the aroma of cardamom, coffee and cashew plantations make Palakkad a picturesque location and intensify the prospect of tourism in Kerala.

Tourist Attractions in Palakkad

• The old Palakkad fort, built in granite by King Hyder Ali of Mysore in 1766 in Palakkad town, is a fantastic piece of art

• In Malampuzha Garden, there is a passenger Ropeway and a reservoir called Malapuzha Dam

• You can spot spotted deer, bison, and lion-tailed macaque in Parmbikulams Wildlife Sanctuary

• You can also visit Jain Temple at Jainmedu and the only Jain Temple in South India, Kalpathy Siva Temple of Vishwanatha Swami's Shrine and the annual feast at Pattambi Mosque

• Silent valley is a reserve of tropical evergreen rain forests that spreads across 90 sq km. It is also the core of the Nilgiri Biosphere Reserve. You will notice a variety of wildlife and vegetation here.

How to Reach Palakkad
Coimbatore airport is about 55 km from Palakkad . So you can fly down to this airport.
Palakkad Junction Railway Station is a major junction of the Southern Railways. So you can also opt for train
This place is also connected to the major cities by a series of roads.
IndiaProfile.com leads you to the tours in Kerala. IndiaProfile.com also offers you online booking for Tours to Palakkad . To book the tour or for more information, please fill up the form below.