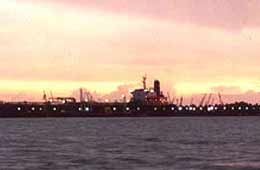 Tourism in Kerala remains incomplete without tours to Ernakulam . Amongst all the tourist sites in Kerala, Ernakulam defines tourism to be romantic affair with European architecture, virgin beaches and dreamy backwaters. Located on the coast of the Arabian Sea, Ernakulam district in Kerala, is surrounded by Alleppey and Kottayam on the south, Trichur on the north and Idukki on the east, while being watered by rivers Periyar and Muvattupuzha.

Legend says that Devalan, a senior disciple of Kulu Muni, had grown a serpent's hood on his head because of a curse. However, Lord Shiva was pleased with his devotion and granted him salvation. The tank in which he attained salvation, was Rishinagakulum, from which Ernakulam was derived. While the district comprises of some parts of former states of Malabar and Travancore, Kochi added to the prominence of Ernakulam in Kerala .



Tourist Attractions in Ernakulam
Fort Kochi built by the Europeans as a mark of their settlement, is a fantatic marvel of European architecture.
Bolghatty Island, built by the Dutch in 1744 A.D, attracts a lot of tourists for honeymoon tours.
Chennamangalam is famous for a co-existing set of synagogue, church, temple and mosque
Bhoothathankettu is a scenic dam site with boating facilities in a vast forest. You can also visit Salim Ali Bird Sanctuary nearby.
Kodanad on the high ranges on the southern bank of the river Periyar, offers you Malayatoor Church and elephant safari.
You should visit Cherai Beach for swimming
The historic village of Kaladi where Adi Sankaracharya, the great philosopher of Advaita, was born.
Chottanikkara Bhagavathi Temple is an important Hindu pilgrimage centre
Malayattur, "the land of hills and rivers", offers St. Thomas Church on the crest of 1,500ft high hillock.


How to Reach Ernakulam

• Ernakulam district is linked by air services from Cochin airport to the major cities of India.

• You can take a train from any major city of India and get down at Ernakulam junction, Cochin Harbour Terminus or Ernakulam town stations

• You can also drive down to Ernakulam from other cities of the country because besides other roads, t hree important National Highways pass through Kochi

• You can also take a boat and come to the natural port in Kochi from Kottayam and Alleppey






IndiaProfile.com leads you to the tours in Kerala. IndiaProfile.com also offers you online booking for Tours to Ernakulam . To book the tour or for more information, please fill up the form below.