About Tour to Bhoothathankettu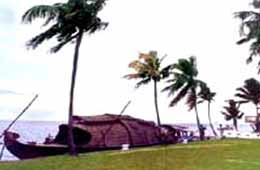 The legend says that it were the ghosts or the spirits who had built the natural boundary of hills and forests around this place in Kerala, and thus the name Bhoothathankettu that means, fort of the spirits. Bhoothanthankettu lies 50 km north east of Ernakulam Town and is a renowned picnic spot within the verdant landscapes. There is also a dam here where boating facilities add to its popularity as a tourist spot. Tour to Bhoothathankettu is a refreshing experience as Bhoothathankettu is often considered a Kerala Eco tourism destination.
Tourist Attractions in Tour to Tour to Bhoothathankettu
The tourist attractions in and near by Bhoothanthankettu are


Salim Ali Bird Sanctuary at Thattekkad. How to reach Bhoothathankettu

To reach Bhoothathankettu by rail, the nearest railhead is Ernakulam at a distance of 50 km. The nearest airport is Kochi International Airport which is about 26 km from Ernakulam town.

Indiaprofile offers information and online bookings for Tour to Tour to Bhoothathankettu. For further information or to book a tour, please fill up the form below.