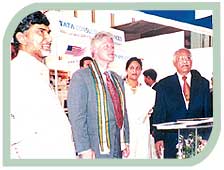 The Apollo Group is a pioneer in telemedicine in India and we are linked to major hospitals and medical colleges across the world for an exchange of opinions and information.

After your treatment at the Apollo Hospital Delhi, you can continue to consult the doctors at Apollo Hospital, through the telemedicine facility, if your treatment requires continued consultation.

Apollo Hospital also reaches out to remote areas through telemedicine so that rural hospitals and medical centers can dispense correct and advanced medical care to patients who have no access to advanced healthcare, a fact the former President of USA, Bill Clinton, appreciated greatly on his visit to the hospital.


Please note: The cost of Medical Treatment can change without prior notice.
The duration of Medical Treatment can change as per case-specific requirements.




India Profile offers Medical Tourism in India, in association with Indraprastha Apollo Hospitals. For more information, please enter your query in the form.