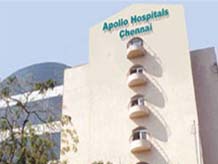 The Apollo Hospitals in India are leading corporate hospitals with an international reputation for excellence and patient-care. The world-class standards of service, at reasonable cost, offered by the Apollo Hospitals have been recognized by thousands of patients in India and abroad.

The leading Apollo Hospitals in India are:

Apollo Hospital Chennai:The Apollo Hospital in Chennai was the first hospital established by the Apollo Group in 1983. It was also the first corporate hospital established in Chennai. It has been declared a "Center of Excellence" by the Government of India. and is the first Indian Hospital to receive the ISO 9002 and ISO 14001 certifications. The hospital has over 1000 beds, several specialized clinics and many medical milestones to its credit.

Apollo Hospital Kolkata: The Apollo Gleneagles Hospital Kolkata extends over 8.5 acres and has 325 beds. The hospital is collaboratively run by The Apollo Group and the Parkway Group of Singapore. The hospital has 7 super specialty operation theatres, and several centers of excellence.

Apollo Hospital Hyderabad: The Apollo Hospital Hyderabad has a campus that extends over 35 acres in Jubilee Hills. The hospital has 550 beds and was the first hospital in India to offer its patients the diagnostic facilities of a PET CT Scanner. It is the only Indian hospital to be recognized as an International Training Organization by the American Heart Association.

Apollo Hospital Ahmedabad: The Apollo Hospital Ahmedabad is a 400-bed hospital that handles around 10,000 patients every year. It is the largest corporate hospital in Gujarat and has a number of specialized clinics and centers of excellence.

Apollo Hospital Bangalore : The latest offering by the Apollo hospital chain, the Apollo hospital in Bangalore provides world-class healthcare facilities to patients from around the world. It has more than 100 consultants who are available round the clock coupled with a dedicated nursing team. The speciality departments at the Apollo include ENT, Orthopedics, Cardiology and Cardiac Surgery, Plastic surgery and Oncology.

Apollo Victor Hospital Goa:
The Apollo Victor Hospital, Goa is the first and only super-specialty hospital in the state. Apollo Hospital in Goa offers the best medical services supported by state-of-the-art medical equipments in the expert hands of world-renowned doctors and surgeons. The tender touch of the nursing staff to relax the patients along with hospitable stay will only let the patient feel at home in the care of loving relatives.

India Profile offers Medical Tourism in India, in association with the Apollo Hospitals in India. We take care of all your travel arrangements to the various Apollo Hospitals in India. We can arrange your flight to India, help you check into the hospital, and provide for your accommodation and travel needs in India. From the moment you arrive, to the moment of your departure, you're in safe hands with India Profile.
India Profile offers Medical Tourism in India, in association with Apollo Hospital. For more information, please enter your query in the form.