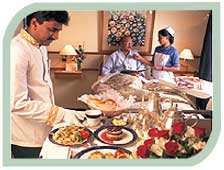 The Apollo International Patient Program gives complete support to patients and their accompanying family members. It offers the most comprehensive medical care and treatment. The International Patient care program offers support to patients and family members who are far from home, in a new environment, facing new doctors and medical procedures. The international patient care program makes patients feel at home by providing them with translation services, appropriate cuisine and checks of their vaccination/immunization status before they arrive in India.

The hospital's services are supported by sophisticated technology that is made available to improve the precision and speed in diagnosis. The use of technology by experienced medical professionals in enhancing patient care is special to the Apollo service. Service excellence is achieved through an ideal blend of medical brilliance and personalized care. All major international credit cards are accepted.

Our Services

Translator Facilities
Coordinating all Medical Appointments
Accommodation for Patients and attendants
Locker facilities for all valuables
A wide choice of international cuisine, to suit the needs and tastes of patients from all over the world.
Shopping and recreational options


Please note: The cost of Medical Treatment can change without prior notice.
The duration of Medical Treatment can change as per case-specific requirements.
India Profile offers Medical Tourism in India, in association with Indraprastha Apollo Hospitals. For more information, please enter your query in the form.