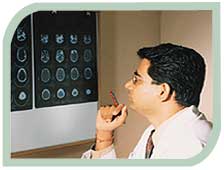 The most modern technology and equipment are provided to cover the entire range of neurological diseases.












It has the most advanced stroke care team taking care of Hyperacute Stroke Thrombolytic Therapy
Balloon Angioplasty and Carotid Stenting
Comprehensive Neuro rehabilitation programme, which includes assessment and management by occupational therapists, physiotherapists and speech therapists.



Note:
Prices are subject to change or withdrawal without notice.
These are indicative prices only and may vary depending on the conditon of the patient, at the time of admission.
Apollo will provide final estimates at the time of patient's admission.
Single room is well furnished with Bed, Sofa-cum-Bed for Companion, Cupboard, Medicine Drawer, TV, Telephone and Wi-fi facility for Internet access. Mobile phones are available on request.
Stay and food for one Companion with patient in a Single Room is included in the above packages.
Services like Mobile, Laundry etc. will be charged extra.
Post-stay outside the Hospital is at the personal expense of the patient and is not included in the above prices.
1 US $ = INR 45
Please note: The cost of Medical Treatment can change without prior notice.
The duration of Medical Treatment can change as per case-specific requirements.
India Profile offers Medical Tourism in India, in association with Indraprastha Apollo Hospitals. For more information, please enter your query in the form.