Food in India is an important area of focus. People indulge in all sorts of eating such as binge and luxury eating. When it comes to good food, the country has numerous restaurants, food shacks and local food outlets, which serves quality food at reasonable rates. It is in this nation that you get to savor varieties of Indian cuisines, starting from Kerala cuisine, Bengali cuisine, Kashmiri cuisine, to Punjabi cuisine and others. However, dining at some of the top rated Indian restaurants lets you get the real taste of India as well as savor other cuisines from different parts of the world. Some of such notable Indian restaurants, which received local as well as global acclaim, are:
Travertino
Location : The Oberoi Hotel, New Delhi
Specialty : Italian Food and Wine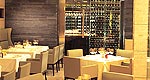 If you love Italian food, this is the place to be in. Travertino is a part of the The Oberoi Hotel in New Delhi. It is designed with a wine cellar. This opens into the dining area. The restaurant also has a separate wine tasting room. Best Italian food is what you can expect to have here. Some of the well known dishes served by Travertino are- Pancetta, Tagliolini, and Umbrian black truffle. This restaurant has featured in Forbes magazine as one of the most expensive restaurants in India.
---
Villa 39:
Location : Colba, Mumbai
Specialty : Authentic Italian Food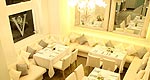 Villa 39 is placed in a heritage building in Colaba area of Mumbai. The interiors are impressive with soothing white color contrasting and sparkling Venetian silver mirror. The décor shows a combination of Indian as well as Italian designs with chandeliers and designer Indian panels. Villa 39 specializes in authentic Italian food. Savor delicacies include Fried Calamari, Ossobuco and Terrina di Mozzarella Caprese.
---
Bukhara
Location : Maurya Shereton, New Delhi
Specialty : Best Indian Food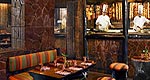 Bukhara has played a host to US president Bill Clinton, who has a personal favorite recipe in this Indian restaurant. The place has special dishes, which are dedicated to the US guests. This restaurant in Maurya Sheraton in New Delhi specializes in Indian cuisines. The menu also has recipes in the name Obama and Hillary Clinton. There are platters dedicated to the celebrity guests such as "Chelsea Platter" and "Hillary Platter" in the "Presidential Platter" list in the menu. Taste some of the best Indian recipes such as Dal Malkhani, which is prepared with selected spices and simmered before being served. The restaurant is also famous for Mughlai dishes and Kebabs.
---
Zen
Location : Leela Palace, Bangalore
Specialty : Balinese recipes, Thai dishes, Singaporean recipes and Japanese delicacies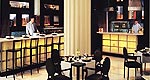 Zen restaurant is a part of the famous Leela Palace in Bangalore. This place is known for its stylish décor with pink hues and interior designs adding to the overall look. Guests are spoilt for choices in terms of Asian cuisines. You can choose from among Balinese recipes, Thai dishes, Singaporean recipes and Japanese delicacies. When dining at Zen, enjoy the authentic flavors of Korea by tasting the Korean Soju and ordering a Korean barbeque or the restaurant's special Sushi.
---
Sakura
Location : The Metropolitan Hotel, New Delhi
Specialty : Japanese cuisines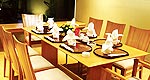 Sakura is a well known Indian restaurant, which specializes in Japanese cuisines. Food here has the authentic flavor of Japan as it is prepared by Japanese chefs. Sakura is a part of The Metropolitan Hotel in New Delhi. It is rated among the 'Top 5 Japanese Restaurants of the World'. The place was also awarded as the 'Best Japanese Restaurant of Delhi' by India Today. The restaurant has received several other awards for its mouthwatering delicacies and hospitable staff. The décor of the place typically represents the Japanese culture and artistic taste. Low tables, dim golden lights and traditional art pieces give the picture of a typical Japanese restaurant in Japan. Savor Sakura specialties such as Sashmi fare, Royal Kaiseki dishes and Sushi when at Sakura for a fine dining experience.
---
Italia
Location : The Park Hotel, Chennai
Specialty : Italian restaurants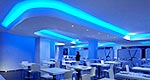 Italia is indeed a wonderful restaurant to choose for a memorable dining experience in Chennai. It is a proud part of The Park Hotel. As one of the top Italian restaurants in the country it has been associated with top chefs such as Antonio Carluccio and Chef Rajesh. The décor of the place is quite attractive with soothing neo lights adding a special charm to the dining experience. Known among the most stylish restaurants in the country, the décor has been personally handled by famous designer Vikram Phadke. Taste some mouthwatering delicacies such as Risotto, Asparagus, Tiramisu and Roasted chicken.
---
Karavalli
Location : The Taj in Bangalore
Specialty : South Indian recipes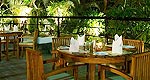 Karavalli has the very Indian look in terms of design. It looks like a typical Mangalorean restaurant with antique lamps, wooden furnishings with ceilings and furniture and a traditional ambience. The place specializes in South Indian recipes. Karavalli is a part of The Taj in Bangalore. It has received several honors. It is one of the best restaurants to find a place in Times Good Food Guide. Karavalli is also picked up among the top Indian restaurants by Miele Guide. This place serves the best Alleppy Fish Curry and Coorg style Fried Chicken, which are worth a try.
---
Wharf
Location : Chennai
Specialty : Indian recipes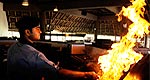 A fine dining experience along the seashore is perhaps the best that you can get from this Indian restaurant in Chennai. Wharf has the natural seaside ambience and is among the top ten restaurants in India and the best eating joints as per Miele Guide. The place serves both vegetarian as well as non vegetarian dishes. Moroccon Chichen Steak, Tandoori Chicken Steak and a range of other steaks and grills invite you to this splendid restaurant by the shores of Bay of Bengal. The place also has a great collection of spirits collected from India as well as abroad to enjoy along with the food.
---
Wasabi by Morimoto
Location : Chennai
Specialty : Indian recipes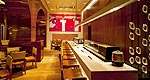 Wasabi is a part of The Taj Mahal Palace in Mumbai. It is one of the most stylish Japanese restaurants that the city can boast of. The restaurant is a brain child of the most famous Chef Masaharu Morimoto, who is popularly known as Iron Chef. Authentic Japanese recipes such as Teppanyaki, Sushi and Tempura are prepared in new flavors. There is live sake bar, grill counter and sushi counter to watch the chefs at work. Wasabi also has a separate dining room, which can accommodate a maximum of 8 people. The ambience of the place with gastronomic lights and excellent décor adds to the memorable dining experience. Taste experimental recipes such as Guacamole Pani Puri, Crab Samosas and Iberico Ham apart from other Japanese delicacies at Wasabi by Morimoto.
---
Koh
Location : Mumbai
Specialty : Thai delicacies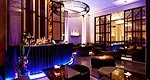 Koh is a Thai restaurant, which is relatively a new addition to Mumbai. The restaurant not only has an amazing ambience but is also known for its mouthwatering Thai delicacies. It is sectioned into a dining area and a lounge. Music played and the décor of the place are the highlights. Food is served in style and the ultimate result is a divine dining experience for guests. Some of the recipes to try out at Koh are- The Hamachi, Gojiberry Bellini, Dragonfly and Thai Curry.
---
You may also be Intrested in...