Soft jazz and trance music, cool breeze of the sea and lip smacking Italian and Portuguese dishes define some of the best restaurants in Goa. Being a tourist hot spot, Goa's variety of cuisine also adds to its charms. The beach shacks, five star food outlets and the grill corners make dining here a memorable experience. You simply cannot miss out on the Asian noodles, Greek gourmets, pizza, seafood and lastly the local fenny. Goa's prawn curry and Portuguese style desserts are a favorite of both Indian and international tourists. India Profile offers online information on best restaurants in Goa, their location and specialty dishes.
Allegria
Location : Taj Exotica Goa
Specialty : Indian, Goan and Portuguese cuisine
Opening Hours : 7:30pm-10:45pm (dinner only)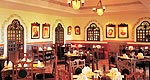 Taj Exotica Goa is a Mediterranean style hotel overlooking the Arabian Sea coast. The Taj Hotels, Resorts and Palaces group owns it. Allegria is one of its in-house specialty restaurants that is known for its incredible variety of Goan cuisine, seafood and other Indian dishes. Signature dishes at Allegria are caldin de verdure, nistiachi koddi and kullanche mass. Among the Goan dishes, you can order for vindaloo, xacuti and fish curries. Treat yourself with Portuguese wine as well. The architecture of this restaurant is also praise worthy. There are antique style furniture that reminds you of Goa's ancient glory and especially the Portuguese colonial rule. It is only open for dinner.
---
Riverside
Location :The Leela Goa
Specialty : Italian cuisine
Opening Hours : 7pm-11pm (dinner)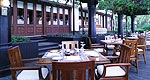 If you want to experience the perfect blend of south Indian traditions and the Portuguese heritage, you need to dine at the Leela Goa. The Riverside restaurant offers you the ideal ambience for a candle light dinner at the open terrace just beside the river Sal. If this does not woo your loved one, the variety of Portuguese dishes and wine will.
---
Simply Grills
Location : The Goa Marriott Resort and Spa
Specialty : Seafood and Grill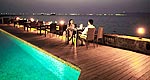 The Goa Marriott Resort and Spa is located on the Miramar Beach and is host to a fine restaurant, Simply Grills. This restaurant is a barbeque counter and ideal place to enjoy Indian and western grill variety. This restaurant features a show kitchen where the grill food is prepared in the open oven. Grill pizza, grill chicken and shrimps are its specialty dishes.
---
Susegado
Location : The Leela Goa
Specialty : Seafood and Grill
Opening Hours : 12pm-1:30pm (lunch), 7pm-11:30 pm (dinner)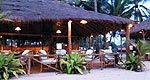 Another great place to dine and unwind at the same time is Susegado that is housed within The Leela Goa. It is the best destination for all seafood and grill lovers. The restaurant has an elegant set up, enjoys a beach location and serves you fresh sea fish cooked and fried in olive oil. Grilled meats and frozen cocktails also go well for dinner. You will also enjoy cool breeze and live music along with a romantic ambience.
---
Da Luigi
Location :Village Square, Park Hyatt Resort
Specialty : Italian cuisine
Opening Hours : 12pm-3pm (lunch), 7pm-11pm (dinner)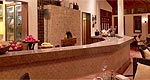 Baked pizza and Italian culinary make Da Luigi a sought after 5 star restaurant in Goa. While pastas and oven-baked pizzas remain their specialty, traditional Italian trattoria food is served for lunch and dinner. Fresh salads, mushroom, dried tomatoes and goat cheese are some of the side dishes can combine with main course meal. Roaster tiger prawns, grilled beefs, potatoes with balsamic sauce are part of the starter's menu at Da Luigi. Offering the best ambience, it has both indoor and outdoor seating arrangement for guests. Selection of Portuguese wine, fenny and French whiskey complements your dining here.
---
IlCamno
Location : Taj Fort Aguada Beach Resort
Specialty :Italian
Opening Hours : 7:30pm-11:45pm (dinner), closed on Tuesdays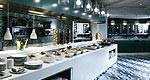 Treat yourself you an Italian buffet at the IlCamno restaurant of Taj Fort Aguada Beach. The extensive menu includes soups, delightful pizza, pastas and chocolate stuffed desserts. IlCamno's signature dishes are pollo arrosto, ravioli di cipolle and onion with black truffle. Fresh fish is part of the seafood menu here. The restaurant also has an interesting look and is oval shaped. It retains the rustic charm with interiors featuring an Italian décor.
---
Sharewood Treehouse Café
Location : Vagator
Specialty : Grilled Ham burger and milk shakes
Opening Hours : 7:30pm-11:45pm (dinner), closed on Tuesdays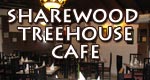 On a tree house and with a cheese ham burger, this is what makes the Sharewood Treehouse Café a sought after place of dining. It is nothing like the five star restaurants that you dine at Goa. A simple bamboo shack and beams of sunlight passing through the tree make your lunch special here. Grilled ham, sandwich, burger, chocolate banana and pancakes are the special dishes that you can order here. After a tired day out at the Vagator Beach, you can return to this shack for resting the afternoon.
---