Kashmiri cuisine is favorite among both Indian and international tourists traveling to the state of Jammu and Kashmir. The Kashmiri Muslim cuisine comprises the non-vegetarian specialties such as rogan josh while Kashmiri Pandit dishes are mostly vegetarian and chilli powder, ghee, yoghurt and cardamom are used liberally. Kebabs, tandoor, grill and Mughlai preparations are also integral to the local culture. Restaurants in Jammu and Kashmir live up to the food traditions and not only excel in authentic Kashmiri cuisines but also serve a range of Italian and Chinese food.
India Profile offers online information on the best Restaurants in Jammu and Kashmir, their location and specialty dishes.
The Chinar Garden
Location : The LaLit Grand Palace, Srinagar
Specialty : North Indian cuisine
Opening Hours : 11pm-6pm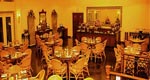 Dining is a delight at the Chinar Garden restaurant of The LaLit Grand Palace located in Srinagar. Specializing in north Indian delicacies, the Chinar Garden is one of the best places to dine in Jammu and Kashmir. North Indian signature dishes include Kashmiri kebabs, Kashmir's traditional dish called kanthi that is served with nadru chips. The nadru chips is deep fried lotus stems. There is an Indian and Continental buffet menu for breakfast and lunch that includes Gujarati and Kashmiri thali served with pickles. Fruit salad is both an excellent side dish and dessert. Kahwa and coconut macaroons are enticing snacks for the evenings. Set amidst a beautiful garden, guests enjoy a tranquil surrounding as well.
---
Darbar-e-Akbar
Location : Hotel Akbar Srinagar
Specialty : Kashmiri cuisine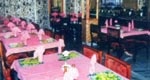 Darbar-e-Akbar is the signature restaurant of Hotel Akbar in Srinagar. Though it serves Mughlai, Continental and Chinese, Kashmiri cuisine is its specialty. You can avail of both vegetarian and non-vegetarian Kashmiri menu like the Kashmiri wazwan for both lunch and dinner. The typical vegetarian meal includes ladyar tsaman, a dish prepared with yoghurt and cheese and dam oluv is a spicy dish cooked with chilli powder. It is served both as a fry and in curry. This restaurant has a simple décor but is popular for its exotic dishes cooked exclusively with fresh vegetables and Kashmiri ingredients. It offers you the ultimate taste of local cuisine.
---
Hotel Broadway Srinagar
Location : Indian and Chinese
Specialty : Traditional Indian cuisine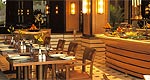 This is the newly renovated and posh restaurant located inside Hotel Broadway Srinagar. The elaborate and contemporary look of the restaurant and a range of delectable dishes make for a memorable dining here. You can choose from north Indian, Continental and Chinese menu. Kashmiri cuisine and Mughlai is also served here for lunch and dinner. Haryali kebab, tandoor, Asian noodles, pastries and beverages are the favorites among guests.
---
Jade Dragon
Location : Vivanta by Taj Dal View Srinagar
Specialty : Chinese cuisine
Opening Hours : 12:30-2:00pm (lunch), 7:30pm-10:30pm (dinner)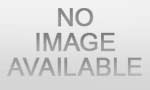 Innovative cuisine is one of the unique concepts by chefs at the Vivanta by Taj. Jade Dragon lives by its traditions and serves guests with authentic Chinese meals and an exotic range of Sichuan delights. The setting of the restaurant complements dinner here. The cherry blossom rugs and Chinese paintings impress visitors. The dishes you cannot miss here are jasmine tea mousse, lotus stem dipped in honey and diced chicken in black bean sauce. Natural herbs, fruits and vegetables make for excellent salads topped with sausages.
---
Latitude
Location : Vivanta by Taj Dal View Srinagar
Specialty : Multi cuisine food
Opening Hours : 7am-11pm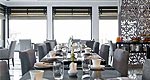 Latitude is an all-day dining option with an outdoor seating arrangement at Vivanta by Taj Dal View. Trendy furnishing and chic décor combined with artistic display of local Kashmiri cuisine, Italian and Continental cuisine appeal guests. Overlooking the Dal View, enjoy a Kashmiri style buffet at this restaurant that also serves wazwan meal on special request from guests. Signature dishes served at Latitude are Kashmiri rogan josh, grilled lamb, nadru and fresh trout curry. Italian pizzas are baked at the open oven and you can treat yourself with a signature grill from the kitchen of Chef Joshi here. You can expect high standards of hospitality and world class service here.
---
Falak Revolving Restaurant
Location : Residency Road, Jammu
Specialty : Kashmiri and Tandoor dishes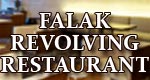 The perfect place to have the night view of Jammu is the Falak Restaurant. The melodious live music and the revolving floor makes up for the perfect candle light date for couples. This restaurant in the 7th floor of KC Residency Hotel is well known for its relaxing ambience and excellent tandoor dishes. Seekh kebab, tandoori chicken, dum biryani and the Kandhari rogan josh are the specialty dishes here. In desserts, you should try the ras malai.
---
Shamyana Restaurant
Location : Boulevard, Dal Lake South Shore, Srinagar
Specialty : Mughlai and tandoor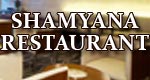 This restaurant serves top notch Chinese and Mughlai dishes besides a variety of rogan josh preparations. Chicken tikka, nan and tandoori roti, Kashmiri potato curry and a variety of kebabs are strongly recommended dishes to order here. The soups are best from the Chinese menu.
---