Chennai has a number of five star restaurants well known for their ambience, décor, variety in south Indian food and other western recipes. They are rated best among the dining venues in the city for their menu of appetizers, main course, desserts, beverages and wine list. Indian Profile offers online information on the best restaurants in Chennai, their location, menu and specialty dishes.
India Profile offers online information on the best Restaurants in Jammu and Kashmir, their location and specialty dishes.
The Raintree
Location : Vivanta by Taj Connemara Chennai
Specialty : South Indian Chettinad cuisine
Opening Hours : 12:30pm-3pm (lunch), 7:30pm-12:am (dinner)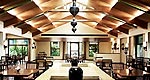 Vivanta by Taj Connemara Chennai is a five star hotel owned by the Taj group. Ladies in traditional wear greet you at the entrance of Raintree and you are led to a hall of magnificent décor giving you a glimpse of an old Chettinad house in Tamil Nadu villages. The Raintree has Chettinad food as its specialty along with all other south Indian dishes. Signature dishes prepared by expert chefs here are kuruvapillai year and kozhi melagu chettinad or chicken fried in black pepper. In the evening, you can also enjoy the live music and dance show in its premises.
---
Six-O-One
Location : The Park Chennai
Specialty : Multi cuisine
Opening Hours : 24 hours(day and night)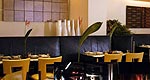 Six-O-One at the Park Hotel in Chennai features the perfect fusion of Indian cuisine and Italian desserts. This restaurant has day-night service and even serves you midnight snacks. It has a bar in the corner where you can sip your favorite cocktail and wine after dinner. Tandoor, grill and pasta - you can order for anything over here. The rich variety of desserts and beverages is a delight for all food lovers. Just when all the city restaurants are closing for the night, the party has just begun at Six-O-One!
---
Golden Dragon
Location : Taj Coromandel Chennai
Specialty : Chinese cuisine
Opening Hours : 12:30pm-2:45pm (lunch), 7pm-11:45pm (dinner)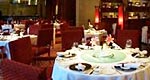 Golden Dragon is the signature Chinese food venue at the Taj. This restaurant housed inside the Taj Coromandel presents before you authentic Chinese delicacies both for starters and main course meal. The menu here includes dim sums, seafood such as crabs and lobsters, peking duck and steamed fish. In main course, you can order for signature dishes such as chicken kwailam, panfried noodles, moon fan fried rice and lamb chengdu. Guests are allowed to choose from a selection of flavored tea and the Tea Bar inside the restaurant. Silver needle tea is a recommended drink here.
---
Season
Location : The Accord Metropolis
Specialty : Global cuisine
Opening Hours : 24 hours (day-night)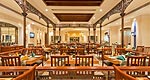 A classic vintage ambience is what you are going to enjoy at the Season restaurant. An all-day food outlet at the Accord Metropolis, Season serves both Indian and western dishes. It specializes in Italian, Mexican and Continental dishes among the western range of delicacies. There is an open kitchen for grill and tandoor items. Pizzas are also prepared at this outdoor oven. Dining is a delightful experience for its experiments with global cuisine.
---
Seagull
Location : Vivanta by Taj Fisherman's Cove
Specialty : Multi cuisine
Opening Hours : 24 hours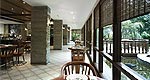 Seagull is one of Chennai's most celebrated restaurants situated in the premises of the Taj owned Fisherman's Cove. It is one of the four Taj hotels in the metropolis. Seagull is a multi cuisine restaurant that offers scenic views of the Bay of Bengal. The multi cuisine menu has selected recipes for starters such as lamb roasts, crabs and lobsters. The uppa kaari – lamb cooked in spices is one of the signature dishes that will fill your palate. The weekend buffet includes salmon fries, salmon grain bread, chicken and prawns. Vegetable dumpling in lohan sauce and the jaitooni paneer tikka are vegetarian delicacies.
---
Beyond Indus
Location : Taj Club House Chennai
Specialty : Punjab, Sindh and Rawalpindi cuisine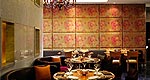 This hotel operated by Taj Hotels Resorts and Palaces is situated on the Club House Road, Chennai. Beyond Indus, is one of new-age restaurants that serves authentic Indian regional cuisine. It specializes in a delectable fare of cuisines from the erstwhile Indus Valley provinces of Punjab, Rawalpindi and Sindh. Thus, in modern day, the North West Frontier cuisine is also one of the specialties of Beyond Indus. The restaurant also has an elegant décor with French upholstery and chandeliers.
---
Peshawari
Location : My Fortune, Chennai
Specialty : North West Frontier cuisine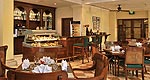 My Fortune Hotel is a unit that operates under the ITC Sheraton chain of hotels. Peshawari, their on-site restaurant, specializes in North West Frontier cuisine. Tandoor and grill are lip smacking dishes here. Haryali, reshmi and Kashmiri kebabs are worth trying.
---
Azulia
Location : GRT Grand Hotel, Chennai
Specialty : Mediterranean cuisine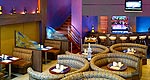 Treat yourself with the best Mediterranean cuisine at one of the city's fine restaurants. Azulia serves you authentic Mediterranean food from Lebanon, Turkey, Greece and Morocco. It is heaven to international tourists, who order dishes of their homeland. Chef Joseph Chahine takes you on a gastronomical voyage across several continents.
---