Introduction:
According to Seneca, the Greek Tragedian, "To be feared is to fear: no one has been able to strike terror into others and at the same time enjoy peace of mind." But this is not the accurate reason why the artists curved out the idol of Narasimha, rather a wonder that such an awesome figure can ever be created from a single stone structure.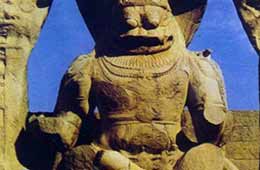 The image of Laxmi Narasimha also known popularly as Ugra Narasimha is carved out of a singular stone at Karnataka. It is supposed to have been constructed at the time of the reign of Krishnadevaraya, in the year 1528. Since it has been carved out of a single rock structure, it holds special attraction for the tourists.

Description of the Temple and the idol:

The fierce and terrifying expression of the Lord with Laxmi sitting on his lap is a wonderful architectural victory. The entire statue is 6.7 meters in height and the idol of Laxmi was completely mutilated and shattered in the year 1565. This idol of the Narasimha was well designed and has a large bulging eyes and broad chest, but has an awesome charm associate with him.

The entire image inside the Makara Torana is splendid and grand. The idol is seated on the coiled Adisesha, the Lord of the snakes and the lions guard the sides of the entire idol. At Kamalpura Museum the lost statue of Goddess Laxmi has been discovered. The unique feature of this statue is that it has been constructed out of a single boulder. Hard Granite is available in plenty nearby; so the entire temple has been constructed from granite stones. Numerous temples at this region is also madder from the granite stones.




India profile offers you the advantage of an online booking for a tour to the monuments in Karnataka.For any queries please fill the form below.