Introduction
Karnataka, an archeologically, culturally and historically rich state in southern India makes it one of the most popular tourist destinations in India. Blessed with picturesque locations, pleasant climate, verdant landscape and beautiful architectural wonders, Karnataka is a tourist's paradise. Tourist attractions in Karnataka are galore.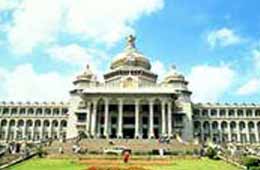 Previously known as Karunadu, Karnataka history is exceptionally glorious and diverse. This enchanting land of Karnataka is well known for Carnatic music and a number of world heritage sites like Hampi and Pattadakal. Karnataka boasts of the Jogs Falls which is the largest waterfall in Asia. Karnataka is the land of silk, coffee, sandal wood, incense sticks and arecanut.

With 320 kilometer long coastline, Karnataka is endowed with many beautiful beaches and hill stations.

Tourist Attractions in Karnataka

Travel attractions in Karnataka is unmatched and some of the tourist attractions in Karnataka are




For more information on Tourist Attractions in Karnataka keep browsing our site, India Profile and for online booking please fill the form given below.