Introduction:
According to David Rutten "Architecture is one part science, one part craft and two parts art." Indeed so, if you come across the Bangalore Palace you shall be enamored by the splendor and magnificence of it, and science, art and architecture would mingle together before your eyes in the form of the splendid Bangalore Palace.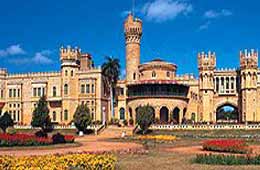 Bangalore Palace is a worthwhile site at Karnataka and consists of large and spacious palaces that have been enthused from the Windsor Castle of England. It lies in the heart of the city of Bangalore and is an exquisite tourist locale.
History of the Bangalore Palace:
The Windsor Castle has been constructed keeping in view the splendid Windsor Castle. According to the sources this palace has been constructed in the Tudor Style and is located in area like Jayamahal and Sadashivanagar. These places have been from the ancient times, locale for culture and concerts; various cultural programs are held here at the time of the festivals.
Description of the Bangalore Palace:
The main building has been constructed mainly with wood, and there are numerous paintings, frescoes and artistic elements in the palace. The equipped columns contain rare and original weapons of the kings and Maharajas of that time. There are also gothic style of windows and cornices, paintings and moldings on the wall of the Palace. The cost of the palace is said to be 1 lakh approximately.
India profile offers you the advantage of an online booking for a tour to the monuments in Karnataka. For any queries please fill the form below.