Introduction:
"I like to see a man proud of the place in which he lives. I like to see a man live so that his place would be proud of him."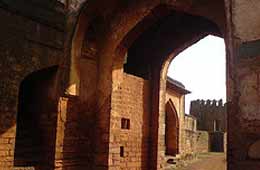 So said Abraham Lincoln. Indeed so, the Bidar Fort is recollects with conceit the pleasant memory of them who have stayed in it. Bidar Fort stands proudly in the hub of the city and inspires awe and reverence from the common men. One would like to stare at the elegant structure and rebuild in his heart the glorious history of India.

History of the Bidar Fort:

In the year 977 AD, the Chalukyas established their kingdom in the South and their capital was Kalyani. It was 57 Kilometer from the Bidar Fort which belonged to them. Later on however, the fort went into the hands of the Yadavas of Devagiri, and then into the hands of the Kalyanas of Warangal in 1322.

But the real charm and elegance of the Bidar Fort rose to its zenith in the hands of the Muslims. Under the Delhi Sultanate the Bidar Fort was reconstructed and many new fractions were added to make the fort more and more modern and charismatic. Bidar Fort is located at Vidarbha, the ancient place mentioned in the Mahabharata.

Description of the Bidar Fort:

The Bidar Fort is at a height of 2,200 feet from the sea level and overlooks the Manjira River Valley. The main gateway of the Bidar Fort is the contribution of the great Sultan Ahmed Shah Wali of the Bahmani Kingdom. This was constructed in the year 1429 and afterwards further renovations were made.

The ninth ruler of the Bahmani Kingdom, Ahmed Shah Wali shifted his capital from Gulbarga to Bidar Fort because of his health. He also took upon himself the task of beautifying the fort and making it the grand structure that would enamor the passers.

The lush green fields, adorned with aromatic fountains and baths suited to a royal class, and the seraglios, pavilion and the palaces embellish the palace beond imagination. A visit to the Bidar Palace is much like an excursion to the paths of history and meeting the genies of the Arabian Nights. Well, let's come here to see for ourselves!

How to come to Bidar Fort?

Well if you arrive at Bangalore by International Airport and then hire an taxi, you can see the fort alive before your own eyes. But you can also avail the rail link that Bangalore has with all the major cities of India. Mysore is also another suitable place which you may visit before finally arriving at the Bidar Fort.

India profile offers you the advantage of an online booking for a tour to the Bidar Fort in Karnataka. For any queries please fill the form below.