"Swallow your pride, you will not die, it's not poison"-so said Bob Dylan in Tombstone Blues. A proud man looses many things that a humble man easily gains and earning reputation is one of them. Tomb stones are built and revered only for them whom people respect and have an urge to pay homage to. Such a one is the Ibrahim-Roza Bijapur.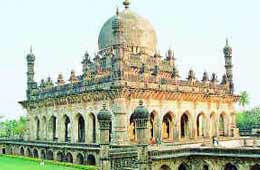 In Bijapur there is a beautiful tomb that had been erected by Ibrahim Roza. It is a splendid structure and consists of interconnected buildings. They are richly decorated with wall décor and wall hangings that belong to the age of the ancient times in which the great king and warrior named Adil Shah II lived.
But this tomb has undergone damage and destruction being exposed for a long time; it has also undergone plunders by the Mughal rulers such as Aurangzeb. It is supposed that the fort has been the main source of inspiration for the erection of the Taj Mahal and the moonlit Taj Mahal is the unique example of the Indian architecture and craftsmanship.
India profile offers you the advantage of an online booking for a tour to the Ibrahim Roza Bijapur.For any queries please fill the form below.