While you come across the splendid Srirangapatna Fort, you shall feel that the architect had been a mastermind, much like Robertson Davies you shall say that "He was a genius - that is to say, a man who does superlatively and without obvious effort something that most people cannot do by the uttermost exertion of their abilities." There is no doubt about the fact that the architect of the Srirangapatna Fort had been a born genius. The magnificent Srirangapatna demonstrates this fact.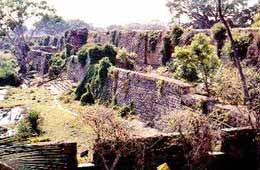 Srirangapatna is a splendid place and it is believed that Tipu Sultan was involved in preparing rockets and missiles here, much before the advent of the British in India. So, this place has gained tremendous importance in the history of the Indian war against the British, and also due to the Srirangapatna Fort.
In this place Tipu was finally defeated by the British. But this place has a special feature. It is a site where the able king was betrayed by his own people, and reminds us of the Party where Christ was finally betrayed by Judas.
With his legendary sword Tipu chased the British but there is always a Judas who betrays a Christ, or a savior. So, Tipu, fighting for the Indian Independence, was finally killed in the Fort. Srirangapatna Fort is the evidence of his tragic death.
Srirangapatna Fort is a monument that stands against this betrayal and sings the glory of a capable king and a great warrior. There are many other places of attraction near the Fort. These include the Sri Ranganathaswamy Temple that enshrines the idol of Lord Krishna.
India profile offers you the advantage of an online booking for a tour to the monuments in Karnataka.For any queries please fill the form below.