Introduction:
There is a statement made by an Anonymous person that "God is not dead but alive and well and working on a much less ambitious project." But this fact certainly complies with the colossal statue of Gomateshwara; a feeling of awe and reverence will encompass you once you come in front of this statue. You would feel that God has come down before you.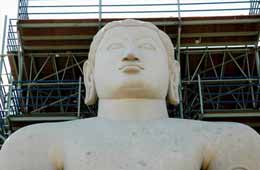 In Mysore there is a monolith of Bahubali who is also known as Gomateshwara. Shravanabelagola is famous for the statue of this God also known as Gomateshwara.

History of Gomateshwara Statue Sravanabelagola:

Indragiri and Chandragiri are the two important hills in the state of Sravanabelagola. The former is renowned for the Chavendaraya Basadi while the latter is well known for the Chandragupta Basadi. On the top of the Indragiri Hills there is a Jain Temple and pilgrims visit this place all round the year.

There are in total 14 Basadis or temples in Sravanabelagola. The famous Chavundaraya Basadi has been constructed in the year 982 AD, and is beautified by the carved pillar also known as Tyagada Brahma Pillar. Amidst the splendid floor design stands the magnificent statue of Gomateshwara. Description of the Gomateshwara Statue Sravanabelagola:

The 58 feet high statue of Gomateshwara is 10 feet long feet. Carved from the black granite found in the hills, this statue is the epitome of tranquility and equanimity. Once in 12 years devotees gather here to participate in the sacred festival of anointment, and this ceremony is known as Mahamastakabhisheka.

In these festival liters of milk, curd, coconut milk and gold and jewelry are poured on the head of Gomateshwara. The Mahamastakabhisheka Ceremony was last held in 2006. How to Reach Sravanabelagola Temple of Gomateshwara:

Bangalore is the nearest airport and the nearest railway station. So, you can come to Bangalore and then hire a bus or a private car that would reach you to the Temple premise.


India profile offers you the advantage of an online booking for a tour to the monuments in Karnataka.For any queries please fill the form below.