Introduction:
The fabulous Gulbarga Fort is located at Karnataka and is a prime tourist attraction. It has originally been built by Raja Gulchand but later on renovated by Al-ud-din Bahmani.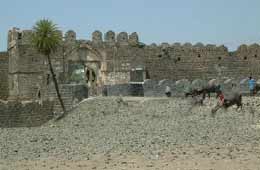 The fort is embellished with approximately 15 towers. 26 guns were always at hand for defending the fort against enemy attack.

Each gun is exclusive and is 8 meters long. Inspired by the great Cordova Mosque in Spain, numerous mosques have been erected inside the Gulbarga Fort. So, this mosque is distinctive in the entire country. In the eastern sides of the Bahmani kingdom there are several tombs.

These graves usually belong to the Bahmani Sultans and they are adorned with the best materials like costly stones, nicely carved ridges and splendid finishing. Many dynasties have ruled the Gulbarga Fort and thus this has suffered enormously.

This has resulted in the damage of the Fort. Mostly Krishnadevaraya of Vijaynagar imposed incredible destruction to the fort but then Mohammad Adil Shah took upon himself the task of repairing the fort.

It was under the able craftsmanship of this Sultan that the entire fort was raised to extraordinary heights. It became almost like the phoenix of India, under him. While we see the fort now, we may feel that "Change is the constant, the signal for rebirth, the egg of the phoenix."



India profile offers you the advantage of an online booking for a tour to the Gulbarga Fort in Karnataka.For any queries please fill the form below.