Introduction:

"Deeds, not stones, are the true monuments of the great."

When deeds of the ancient kings and emperors are concerned, one can acknowledge the marvelous achievements in the field of art and architecture. All their accomplishments in diverse fields have piled up to in an unitary construction; that singular structure is the monument. The Monuments of Karnataka display the universal strength of the ancient kings and emperors and their knowledge in diverse aspects of life.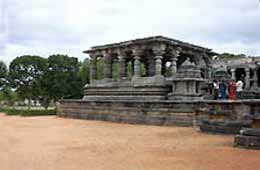 History of the Monuments in Karnataka:
The early rulers of Karnataka were mainly the Nandas and the Mauryas; these rulers reigned in North India. But the Satavahanas were the rulers of the South and reined an extensive area in Karnataka, then came the Chalukyas and the Kadambas. The Rashtrakutas were also very important. Various architectural structures were erected during the reign of these dynasties and so, Karnataka is replete with numerous magnificent structures.
Description of the Monuments in Karnataka:
Aihole is the early capital of the Chalukyas. It consists of about 100 temples that are scattered all over the village. These temples have been divided into 22 groups in order to identify them easily. According to the sources these temples have been erected between the 6th and the 8th centuries BC.

Badami, the capital of the early Chalukyas is also renowned for the splendid cave temples. They are constituted of sand stones and occupy a land in the hilly terrain. The third rock cave has been dedicated to Lord Vishnu and is the most celebrated one. The other temples are mostly dedicated to Lord Vishnu and Shiva.

Bidar Fort: It belongs to the Chalukyas. But the main gate has been constructed by the Bahamani Sultan Ahmed Shah, in the year 1429. But later on many renovations and reconstructions were made and the temple indicates an enhanced sense of beauty and elegance. Palaces, Lush Green background bedecked with marquises, and the fantastic fountain makes up the Bidar Fort.

Bull Temple: The Bull temple at Bangalore is the abode of Lord Shiva's Bull. He is called Nandi, originally an ash structure the single rock carved Nandi has now turned black. This is because of the contribution of oil by the devotees to him.

Gulbara Fort: 26 guns each 8 meters long are kept inside the Gulbara Fort; it had been raised by the Bahmani King Ala-ud-din Bahmani.

So, the major monuments in Karnataka are:



How to Reach Karnataka and see the Monuments there?

Bangalore is a metropolitan city and has an International Airport and Domestic Airport as well. One can also go to Karnataka by Train, from all major cities in India.

India profile offers you the advantage of an online booking for a tour to the monuments in Karnataka.