A tour to India is an experience of a lifetime whether for leisure or business purposes. India is a great venue to hold a business conference or conduct a conference. India has played host to many international conferences, conventions and seminars in the past as well as present.
Indian cities have five star hotels with standards of service that match the best in the world. The conference and banquet halls in these deluxe hotels are ideal for having undisturbed conferences and conventions. A range of heritage and adventure destinations with royal palaces, jungle resorts and beach getaways provide many options for conferences and conventions.
The conference and business facilities in these hotels offer the most contemporary amenities required for a leading business conference like Fax, Xerox, Internet, Dataport, Overhead Projector, Translation facilities in five or more languages, Secretarial services etc. The conference halls also have a separate set of boardrooms, meeting rooms, lawns and terraces for conducting business conferences as well as theme evenings, outdoor functions; and lunch and dinner parties succeeding these conventions.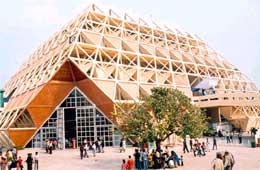 Many international conferences and conventions have been held successfully in different cities of India. These range from meetings of the South Asian Association for Regional Cooperation (SAARC), the Non Aligned Movement (NAM), the World Social Forum and various other international bodies. International exhibition venues such as Pragati Maidan in New Delhi hosts International Trade Fairs, World Book Fairs, Defence Exhibition, the Automobile Exhibition (the largest covering the whole of Asia) and other major trade and industry events every year.
India is a now become a popular destination for international conferences, business exhibitions, conferences and events. So do consider holding your next corporate conference or conducting your next convention in India for sure.