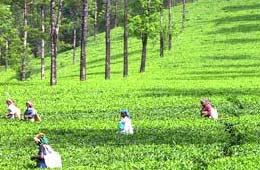 Ever wondered how your favorite brand of tea reaches your kitchen shelf? Many of us wouldn't even believe if told that this very tea goes through a whole gamut of production procedures before finally blending into our cups. So if you are among those very keen to see for yourself how this wonder beverage is produced, a tea tour seems to be the best option.

Tea tourism in India is fast catching on popularity with more and more tourists making their way to the lush green tea estates of India. Speaking of tea cultivation in India, it has been flourishing since the British colonial times when Robert Bruce chanced upon tea plants growing wild in the state of Assam that is famous as the birthplace of Indian tea. Today, India boasts of three major regions - Assam, Darjeeling and Nilgiris - that produce some of the finest teas in the world.

India is the largest producer of tea and contributes around 32% of the total global output. Therefore it is not surprising to note that tea tourism in India is indeed flourishing with the country busy inviting tourists to see for themselves how its favorite beverage makes its way to people's homes around the world.

Tea tours to India will not only take you around luxuriant plantations around the country but will also give you the perfect opportunity to know all about its history and commercial importance. Stay at luxurious tea bungalows, ensconced in the best of comforts, enjoy interacting with tea workers, try your hand at plucking tea leaves, visit tea factories - all as part of tea tours in India .

Indian Tea tourism as they say is India's answer to what Europe calls wine tourism. So why don't you book a tour with India Profile today and see for yourself what is so unique about it. Just think, lush green tea plantations, a tranquil ambience and loads of old worldly charm - simply heaven!



India Profile offers to give you online information on Tea Tourism in India. For more information, please fill up the form.