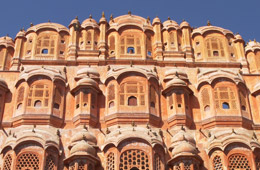 Jaipur is a feast in store for tourists. 260 km from Delhi and 240 km from Agra, Jaipur forms one of the most chosen tourist attraction in India. The Heritage City has been the capital of erstwhile Jaipur state since its inception in 1727 AD. Named after its founder Maharaja Sawai Jai Singh II, Jaipur is a bustling business centre with all the features of modern metropolis, yet adorned with an age-old charm that never fails to surprise a traveler. Jaipur is surrounded by rugged hills on three sides, each crowned by formidable fort and beautiful palaces, mansions and gardens. Jaipur dressed itself in pink to welcome Prince Albert and earned the epitaph Pink City. The Pink city can grip any visitor with admiration.

Jaipur is also a home of excellent handicrafts especially known for the exquisite gold jewellery enameled or inlaid with precious stones, blue pottery, carving on wood, stone & ivory, block print, tie & dye textiles, hand made paper, miniature painting etc.



Historical Attractions at Jaipur



Jantar Mantar - built in 18th century by Maharaja Sawai Jai Singh II. The huge masonry instruments were used to study the movement of constellations and stars in the sky.

City Palace and S.M.S. Ii Museum - situated in the heart of the old City, it occupies about one seventh of the old city area. It houses a seven storied Chandra Mahal in the centre, which affords a fine view of the gardens and the city.

Diwan-E-Am and Diwan-E-Khas are worth visiting.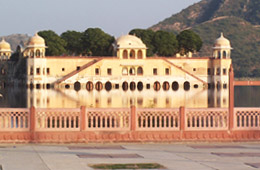 Ishwar Lat - the tower, near Tripolia gate is built by Maharaja Ishwari Singh (1744-51). It offers one of the most breathtaking views of the city.

Central Museum - situated in the Ram Niwas Garden, this graceful building was founded in 1876 by Prince Albert.

Jalmahal - this small palace is set in the middle of Man Sagar Lake.

Jaigarh Fort - built during reign of Maharaja Sawai Jaisingh, The world's biggest cannon on wheels- the Jai Ban is positioned here.

Nahargarh Fort - situated on the top of a hill about 600 ft. above the city, the fort was built in 1734.
Galtaji Temple - an ancient pilgrimage spot where the great saint Galav is believed to have spent his life and did his meditation. Galta, situated near Sisodia Rani Ka Bagh, is known mainly for its temples, pavilions, natural springs and holy 'kunds'.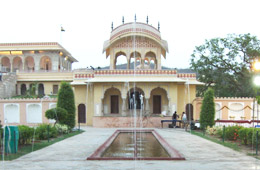 Govind Dev Ji Temple - situated in the City Palace complex, the royal temple is dedicated to Lord Krishna. It is well preserved by the erstwhile royal family.
Motidoongari - perched on a hill top on the southern horizon, it is a replica of a Scottish castle. It is still a private property of the royal family and visitors are not allowed inside the premises of the palace.
Modern Attractions at Jaipur
Birla Planetarium - offers unique audio-visual education about stars and entertainment with its modern computerized projection system.
Dolls Museum - situated on Jawahar Lal Nehru Marg, it is a collection of beautiful dolls from all over the world.
R. C. Museum Of Indology - consists of a large collection of historical archaeological manuscripts, miniature paintings and other artifacts.
Birla Temple - situated just below Moti Dungri, the Birla Lakshmi Narayan Temple has a huge complex and is built in a contemporary style.

Kanak Vrindavan Valley - situated in the foothills of Nahargarh hills, Kanak Vrindavan Valley consists of well developed and planned gardens with an exquisitely and intricately carved beige stone temple. Its marble columns and lattices is an admirable piece of art.

Sisodia Rani Ka Bagh - Built by Raja Sawai Jai Singh in 1728, it was a gift by the royal groom to his Sisodia Queen from Udaipur. Depicting the theme based on the legends of eternal lovers - Lord Krishna and his beloved Radha, the garden is laid in Mughal style.

Vidyadhar Gardens - it is a beautiful vineyard situated near the famous Sisodia Gardens of Jaipur. Vidyadhar Gardens is perhaps the best-preserved garden of Jaipur.

Unique Attraction at Jaipur

Hawa Mahal - built in 1799 by Maharaja Sawai Pratap Singh. It is a 5 storied stunning semi-octagonal monument having 152 windows
Tourist attractions in Jaipur brings along with it a bundle of excitement and joy. It is a place where one can breathe the fragrance of history and enjoy the modern features of a metropolis. The tourist attraction in Jaipur is a tourist's paradise. So, come and cherish the beauty of the pink city.
Indiaprofile.com gives you all the information for a perfect tour around Tourists Attractions in Jaipur and other tourist places in India.