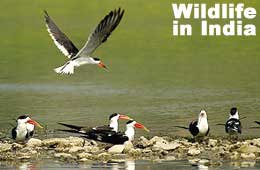 India is home to many wildlife sanctuaries and national parks which are the natural habitat of many animals and rare species. It has the second largest wildlife base in the world. In India you can find tropical wet evergreen jungles of the Ghats in the Indian Peninsula to the alpine forests of the Himalayas.

Areas like the Deccan Peninsula, the Indian coasts, the Western Ghats, the Gangetic plain, the Northeastern Region and the Trans Himalayan region form the main wildlife zones in India. The climate and vegetation of these areas, range from the tropical to the temperate, and is home to tigers, snow leopards, elephants, antelopes, deer, bears, jackals, hyena, wild buffalo, etc.
India's exotic wildlife reserves are home to the largest number of tigers and one-horned rhinoceros in the world, as well as the almost extinct Asiatic Lion, and a large percentage of the total Asian elephant population.
The tiger is the most sought after wild animal by tourists in India. The Ranthambore National Park, Corbett National Park, and Kanha and Bandhavgarh national parks are the best known sanctuaries to see tigers in India.