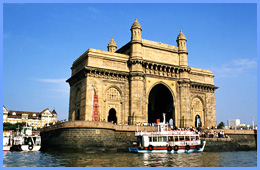 Mumbai is regarded as the commercial capital and is one of the busy and populated cities of India. The booming capital city of Maharashtra, Mumbai has a beautiful range of attractions for its visitors. From nature lovers to science freaks to the common tourists the city of dreams has something special to offer to everyone. Major tourism attractions in Bombay are Gateway of India, Taj Mahal Hotel, Chowpaty, Victoria Terminus (now known as Chattrapati Shivaji Terminus) and many more.
Tour itineraries for Mumbai offer many lucrative deals to tourists coming to this beautiful city from all over the world. The main point of attraction for tourists is the reasonable rate of the tours to Mumbai. Along with covering the main attractions within the city, the tour itineraries also cover the various nearby destinations of Mumbai such as Lonavla, Khandala, Mahabaleshwar, Sirdi, Matheran, Panchgani and so on.
Mumbai is also the hub of Hindi Film Industry, Bollywood, which is an added attraction of the city. Tour operator's spread all over India and abroad offer great itineraries to Mumbai. These itineraries can be for a short duration as well as long one's as per your convenience. Most tour operators offer as short as 3 days to even a month long itinerary to Mumbai covering most of the interesting destinations in Maharashtra.