As a source of souvenirs, Pushkar occupies an important place in Rajasthan. Visitors who make a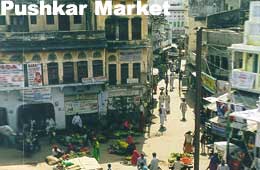 tour to the holy town also throng at the bazaars to shop for textiles, vivid embroidery, jewellery, miniature paintings, leather goods, brass utensils, puppets and pottery. Pushkar is one of the best places in Rajasthan to purchase costume jewellery and embroidered clothes.

During the Pushkar fair, you can buy various objects such as beads, bangles, embroidered clothes, camel cover, leather goods brass utensils etc during the fair. The shopping centres are Sarafa Bazar, Baza Bazar and Kedalganj bazaar.
---