Ajmer serves as the base for most of the long-distance journeys to and from Pushkar. A small town, Pushkar does not have a railway station.
Air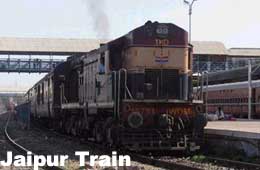 The nearest airport is at Jaipur, which is 131 km away.
Rail
Ajmer, situated at a distance of 11 km from Pushkar, is the nearest railhead. Ajmer an important destination on its own right, Ajmer is well connected with major places in Rajasthan.
Road
Pushkar is home to two bus stands. The Marwar bus stand, in the north of town by the post office, has buses to some long distance places including Delhi, Jodhpur and Bikaner while the Ajmer bus stand is located east of the Pushkar town and offers bus services to Ajmer and Jaipur. Pushkar is well connected to Ajmer by bus.
---