Pushkar's main claim to fame is the sacredness attached to it. However, Pushkar also tempts visitors for the exciting camel safari in the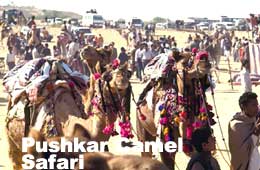 desert sand dunes. Anyone who travels to the holy town of Pushkar should not pass up the opportunity to go on a camel safari. A camel safari in Pushkar offers an irresistibly romantic chance to explore the sweeping vistas of the desert landscape.

Camel Safari in Pushkar is a once in a lifetime experience. India Profile tailors these safaris to suit your requirements. Explore the rugged terrain of the Great Indian Desert of Sahara, while using camels as your load bearers. Sleep under the starlit skies. A traveler could not ask for a better introduction to the stark beauty of this place otherwise more famous for its spiritual activities. There is not an iota of doubt that a visit to Pushkar is incomplete without experiencing a camel safari.
---