Anything even remotely related to Pushkar Lake has a halo of sacredness and divinity. Legend has it that a dip in its waters cleanses all the sins and is the surest way to achieve salvation from the cycles of life. Circled by some five hundred odd temples, the lake has 52 ghats, which connect the temples to the water. These ghats were constructed by the rulers of the different erstwhile princely states of Rajasthan and some of them are aptly named after the states.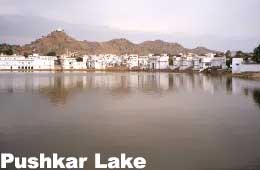 Prominent among the ghats are Gau Ghat, Brahma Ghat and Varah Ghat. Also called Main Ghat, Gau Ghat is the place from which ashes of Mahatma Gandhi were sprinkled into the lake. Brahma Ghat is believed to be the spot where Brahma himself is said to have worshipped. The Varah Ghat is famed to be the place where Vishnu, the preserver of the Hindu Trinity, appeared in the form of Varaha (a boar), third in the line of his nine incarnations. It is advisable for the visitors, who travel to the Pushkar lake, not to take photos and to remove their shoes before going to the ghats.

Every year on the day of auspicious Kartik Purnima, the full-moon phase of October/November, Pushkar Lake attracts thousands of pilgrims from all over the country to take a holy dip in its waters. It is believed that a dip at the lake on this auspicious day is equal to the penances done for one hundred years. The India profile offers tour packages for travel to Pushkar Lake.
---