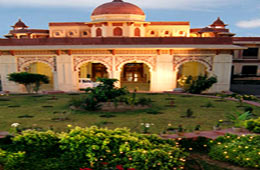 Jodhpur was founded in 1459 by Rao Jodha, a Rajput chief of the Rathore clan. The state of Jodhpur was then known as Marwar. Initially Mandore, served as the capital of this state; however, Jodhpur soon took over that role, very much during the lifetime of Rao Jodha. The city got its name from its founder. Jodhpur is now a very popular tourist destination and hotels in Jodhpur Rajasthan deftly host the guests who pour in to the city from different parts of the globe.
Jodhpur was located on the strategic road linking Delhi to Gujarat enabling the flourish of trade in opium, copper, silk, sandals, date palms and coffee. Jodhpur was thus a very important stop on the trade map of India, and it is still a very important centre of trade of locally crafted goods, spices, etc.
The main tourist attraction of Jodhpur is the Mehrangarh Fort which offers a mind blowing view of the city and is one of the best preserved citadels in India. The hotels in Jodhpur India that are closest to the fort are therefore the most commonly chosen and preferred by the tourists. The hotels in Jodhpur Rajasthan are strewn all over the city.
The Jodhpur hotels by and large cater to the need, preference and affordability of a large cross-section of tourists. Heritage hotels, deluxe hotels, budget hotels- a large range of hotels both in terms of budget and facilities offered, are available in the city. However, though hotels in Jodhpur are to be found in a large number all over the city, it is advisable to book rooms in advance, specially, if you are visiting Jodhpur between October and February- that is the peak season for tourism in all Rajasthan, given the excessive summer heat which is very difficult to put up with.