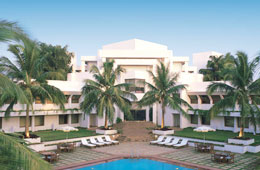 Trident hotel chains are one of the premiere groups of hotels that have set a high standard in the hotel industry. With a number of hotels spread across different parts of India and with several ones coming up in the near future, the future seems to be brighter for Trident hotels. The world class accommodation facilities, the satisfying dining facilities and the number of added facilities offered by the hotels of Tridents group. The overview of the various hotels of Trident group in India is as follows:

Trident, Gurgaon

The particular hotel is a great hotel facility for the guests visiting Gurgaon. Equipped with an accommodation facility that has a number of modern facilities, staying in the hotel is a great experience for tourists. The hotel also offers a quality dining facility. It also offers facilities like fitness rooms and bar.

Trident, Nariman Point Mumbai

The 22 floor hotel has as many as 550 rooms. Apart from the quality accommodation facility, the hotel also has a contemporary Mediterranean restaurant, a South-East Asian restaurant to provide a great dining experience for the tourists. The hotel is also equipped with tour desk and business center.

Hotel Trident Agra

Located in the midst of beautiful gardens, the dining facility of the hotel is a prime attraction for guests. The Le Bar lobby also offers a great variety of wines to the people. Apart from these, there are also a number of facilities offered by the hotel.

Trident, Bhubaneshwar

Equipped with facilities like state of the art safety and security systems, pool table, mini library the hotel boasts a perfect blend of luxury and comfort. The rooms are also equipped with high speed internet. Tour desk and business center are some of the other facilities offered by the hotel.