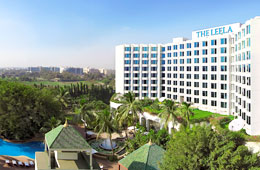 The Leela Hotel chains is a currently a prominent name in the hotel industry in India. With a huge number of hotels spread across the different parts of India, the Leela hotel chains have redefined hospitality offered by hotels in India. Staying in the hotel is always a great experience for the guests. The presence of modern facilities, the most personalized service and the advantageous location are some of the most common features for most of the hotels under the Leela hotel chains. The best part from a guests' point of view is that all these facilities are available within an affordable price.

The different locations in Leela Hotel chains are as follows:

The Leela Kempinski Mumbai

Located at an advantageous location the Leela Kempinski Mumbai is like a pearl in the Leela hotel chains. Boasting a superb accommodation embedded with a number of modern facilities like deluxe suite, executive suite and other variety, your stay at the hotel will surely be a great experience. The dining at the hotels is all a pleasant experience with restaurants offering a number of varieties. Apart from these, there are also a number of facilities like spa, fitness center to provide a wholesome experience to guests.

The Leela Kempinski Bangalore

The The Leela Kempinski Bangalore is located right in the heart of the garden city. Like all other hotels under the Leela hotel chains, this hotel also has a great accommodation facility. The dining hotels are also great. In fact, the added facilities like grand ballroom and turret board room also makes it a great place for business travelers. It also has a spa facility.

The Leela Kempinski Goa

With as many as 185 rooms, the Leela Kempinski Goa is also a great place to nest in Goa. The accommodation also comes with variety like Pavilion rooms, club suite, conservatory premiere, Presidential suite etc. The hotel also offers a number of business and meeting facilities along with spa and golf facilities.