Introduction to Vivekananda Illam,Chennai :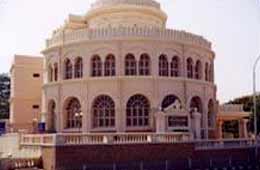 It was in the year 1897 when Swami Vivekananda , one of the most influential spiritual leaders of all times delivered seven inspiring and historic lectures in Chennai. The venue was Vivekanda Illam , originally called Ice House. This was re christened in 1963 as the Vivekananda Illam, as a tribute to Swami Vivekananda on the centenary year of Swami Vivekananda. The building was originally called ice house because it was used as ice storage for the Tudor Ice during 1842 to 1874 till it was taken over by the Government of Tamil Nadu in 1930.
Location of Vivekananda Illam,Chennai
The Vivekananda Illam is located on the Marina, in Chennai.It is on the beach road which is 5 kms from the Chennai central Railway Station and 6 kms from Chennai Egmore Rail Head. There are regular city buses as well as overhead rail that takes tourists to Vivekananda Illam in Chennai.
About Vivekananda Illam,Chennai
The Vivekananda Illam house has an impressive gallery which displays some of the rare pictures and photographs of the life of Swami Vivekananda. There is also a section devoted to the cultural heritage of India and the history of the Building that is now called the Vivekananda Illam. Closed on Wednesdays, the Vivekananda Illam remains open everyday from 9.am to 12.30 pm and again from 3.00 pm to 6.30 pm. This historical monument in Chennai has now become a pilgrimage place for all devotees of Swami Vivekananda. It was here that Swamiji spent full nine days of his life in February 1897, mediating, praying and meeting visitors.
Indiaprofile offers information and online bookings for tours to Introduction to Vivekananda Illam,Chennai. For further details or to book a tour, please fill up the form below.