About Velore: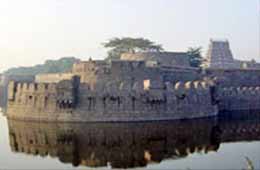 Vellore is a city with popular tourist destinations. It holds attraction for its historical background, exquisite temples, rapturous waterfalls, fascinating shopping malls and the life giving hospital. The name Vellore reminds us of eternal curative elements that are integrally associated with the city.

The Vellore Christian Hospital renowned for its efficiency and success is sought after not only by Indians but also by people of other countries. Whenever someone falls sick disastrously, Vellore seems to come up with a helping hand and always appears to have a solution for your illness.

You come to Vellore with hope of Recovery and you leave Vellore with your own feet and a high spirit and satisfaction of revival. It reminds us of Christ's rebirth and reincarnation. Vellore seems to reincarnate man's soul.
Tourist Attractions:
Vellore is an ancient city that has been under the many a dynasty, like the Pallavas, Rashtrakutas, Cholas, and the Chalukyas. These were the ancient dynasties of the South and they were very powerful during their own times. Vellore is actually a city that dates back to the 16th century and was under the patronage of Bommi Nayak.

He was the benefactor of the city construction and it is said that the Vellore Fort was built under his sponsorship. This is a major tourist attraction at Vellore. One can also see the Jalakandeshwarar Temple which showcases the skills of the scientific and artistic talents in their respective fields during the days of their youth. The artistic craftsmanship of Vellore is well conspicuous in the display of architectural skills of the Aruganthampoodi Mausoleums.
Accommodation:
While in Vellore you can also see the splendid Murugan Temple. This is adjacent to the astounding Jalagampari Falls; this is also a reputed picnic spot in Vellore. Woven mats, woven silk and pottery items are available in plenty at Vellore. Moreover you can also enjoy the thrilling Kokkalikottai Folk Art performance.

The Sandalwood Forests in Javadu Hills will remind you of the glamour of South Indian Culture and the wonderful asset of Sandalwood that the South India is well equipped with. You shall be enamored by the beauty of the 700 year ruins of the Gingee Fort. This was the ancient fort that belonged to the Cholas.

While at one of the splendid Hotels of Vellore you can also give a visit to the Virinjipuram Siva Temple. This is one of the most renowned pilgrim spots in the country. There are many Five Star, Four Sra, Three Star Hotels at Vellore and you would enjoy the warmth and care at the Hotels. The accommodation is comfortable and homely.

How to Reach:
Chennai is the nearest Airport, and also the nearest Railway Station. One can come to Chennai Airport or Chennai Railway Station and the hire a bus or car for reaching Vellore.