Day 05 : Arrive Kumarakom / Periyar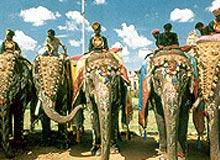 Morning: Arrive Kumarakom and switch over to coach and drive to Periyar (120kms/03 hrs) and and arrival check in at a jungle resort. Late afternoon boat ride in lake Periyar to watch the wild life. Evening visit to Kumily Spice Market to see and buy spices. Overnight in Periyar. Periyar Tiger Reserve. 777sq.km. in area is set in a rich mixed deciduous forest, interspersed with open areas of tall grass. Periyar has a splendid artificial lake dotted with snags of dead wood, which provide a perch for water birds, darter, grey heron, egret and kingfisher. It is one of the finest habitats for the Asiatic elephant. These enormous mammals swim in the waters and usually they can be observed during the boat ride. Periyar also holds, apart from Tiger, leopard, sambar, wild dog, barking deer & the lion tailed macaque, the Nilgri languor. The forest harbours a variety of woodland birds. Boat travel is the only means of transport in the Sanctuary.
Day 06 : Periyar / Munnar
Morning: Drive to Munnar (110kms/03hrs) and an arrival check in at hotel. Rest of the free. Overnight in Munnar.
Day 07 : In Munnar
Full day free in Munnar to visit plantation, boating etc. Overnight in Munnar. Munnar (1524M) is the highest town of Kerala, with a cool, bracing climate exuding an old-world charm. The atmosphere is fragrant with extensive tea and cardamom plantations. There are enchanting high ranges, lakes and streams and beautiful view of low-lying clouds and the mist filled valleys.
Day 08: Munnar / Kumarakom
Early Morning: Drive to Kumarakom (210kms/05hrs) and on arrival check in at a lake front Resort. Rest of day free. (Optional visit to the bird sanctuary). Overnight in Kumarakom. Kumarakom is an idyllic floating Island situated on Vembanad Lake. The adjoining bird sanctuary with a spectacular collection of resident and migratory birds can be viewed from here. Nature walks, backwater boart cruises. Ayurvedic massages in traditional form (practiced since ancient times in Kerala) and swimming are all-possible. For those interested in fishing special arrangements can also be made.
Day 09 : In Kumarakom
Morning: Guided visit to the Churches and nearby village. Afternoon: Free for independent activities. Evening: Visit the Kottayam Thirunnakara Temple to witness the festival proceedings. Overnight in Kumarakom. The Thirunnakara temple is the heart of Kottayam and dedicated to Lord Shiva is also famous for the grandeur of its traditional architecture. The annual festival of this temple falls in the month of March-April when folk arts like mayliattam (Peacock dance) and Velakali (Martial arts) are presented in the temple grounds in the evening.
Day 10 : Kumarakom / Vaikom / Trissur
Morning: Drive to Trissur (165kms/04hrs) enroute enjoy a country boat cruise at Vaikom to experience the local life of Kerala. Here one can see pottery, khadi weaving and coconut oil extraction. Also enjoy a sumptuous traditional Kerala lunch served on banana leaf. After lunch proceed to Trissur and on arrival check in at hotel. Overnight in Trissur.
Day 11 : In Trissur
Full day free to witness the Arattupuzha Pooram at Arattupuzha temple (about 14kms fro Trissur town). Overnight in Trissur. Arattupuzha Temple Pooram-Sixty one elephants take part in this spectacular Pooram pageantry accompanied by temple percussions. The Arattupuzha temple is dedicated to Sre Ayyappa. The Pooram festival is a replication of the annual visit of the deities of the neighbouring temples. Earlier there were a hundred tuskers participating in the Pooram.
Day 12 : Trissur
Morning: Drive to Cochin breeding centre, Palayoor and Kadakallu (umbrella aristocratic families long Overnight in Cochin.
Day 13 : In Cochin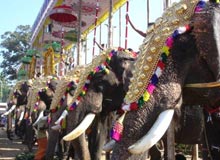 Cochin-the palm green co of the finest natural ha hoary past. Cochin is the The Jewish Synagogue-Scrolls of the Old Tes containing the privileges rulers. The floor of the Chinese hand painted tile the Portuguese and pre AD. The 17th century Indian epic, the Ramayana Portuguese in 1510 AD Vasco da Gama was origin the harbour. The Chinese nets along the back-water.
Day 14 : In Cochin
Full day free fro independent. Evening: Attend a fare
Day 15 : Depart Cochin
Check out of hotel at 1200 onward flight home