Detailed Itinerary


This is the tour of three different parts of the Jammu and Kashmir. The Landscapes are completely different from one each. You will visit most ancient monasteries during the tour. Zanskar towards each other along the northern flank of the Great Himalaya, meet in the broad plain of Padam. Virtually untouched by the winds of change and modernization till then, Zanskar is now a favorite destination for trekkers. Zanskar is also known as a land of religion and has the greatest concentration of gompas in Ladakh, outside the Indus valley.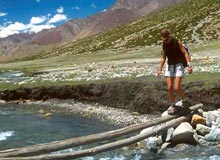 Day 01 : Srinagar
On arrival at Srinagar airport. Our representative will meet you and escort you to Houseboat. Afternoon Shikara ride on Dal lake visiting interesting places around the Lake. Overnight at Houseboat.

Day 02 : Srinagar
Morning half day tour of world famous Mughal gardens visiting Nishat (The Garden of Pleasure) built by Asaf Jah in 1636 AD and Shamilar Bagh (Abode of Love) built by Jehangir for his beloved Nur Jahan in 1619 AD. Afternoon Visit Srinagar Old city Jamia Masjid, Shah Hamdan mosque, Srinagar Museum and enjoy the walking through the narrow bazar of the city. Overnight at Houseboat.

Day 03 : Srinagar - Kargil (205 Kms)
Full day drive to Kargil. After Sonmarg you start steep ascending most rough road and wet Zojila pass 3527 Mtrs known as (Gateway of Ladakh) continue drive towards Drass second coldest place in the world here we stop for tea and passport check. Another two and half hours drive will take us Kargil. Overnight at Hotel.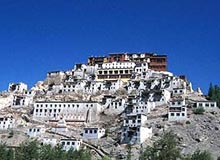 Day 04 : Kargil - Rangdom (135 Kms)
After Kargil drive towards Zanskar valley on the way see Panikar and Parkachan villages view of Nun & Kun peaks are seen.. Arrive Rangdom in the evening . Overnight in Tents.

Day 05 : Rangdom - Padam (150 Kms)
After short drive, we stop at Rangdom Gompa and visit the Gompa Continue drive to Padam which is the Capital of Zanskar valley on the way cross Pensila pass 4401 Mtrs and some ancient Buddhist villages. After crossing Tungri bridge visit Sunni Gompa finally we reach Padam in the late afternoon. Overnight in Tents.