Detailed Itinerary


India, the country which boasts of its rich culture has to its credit the diversity in its , costumes, traditions. Here, we take you to an Ethnic Textile tour which familiarizes you with the diversity that we have in terms of costumes.
Day 01 : Arrive Kolkata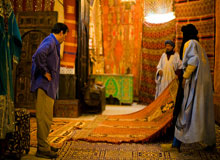 On arrival, you will be met by our representative and transferred to hotel. Overnight at hotel.
Day 02 : Kolkata
Full day city tour. Overnight at hotel.
Day 03 : Kolkata - Bhubaneshwar
Transfer to airport for flight to Bhubaneshwar. On arrival transfer to hotel. Afternoon city tour. Overnight at hotel.
Day 04 : Bhubaneshwar - Sambhalpur
After early breakfast departure for Sambhalpur with packed lunch enroute visiting the handloom weavers village at Nuapatna. Dinner and overnight at hotel in Sambhalpur.
Day 05 : Sambhalpur - Boudh
After early breakfast, visit some of the handloom weavers villages. Lunch at Sonepur or Bolangir. Afternoon proceed for Boudh for dinner and overnight stay at hotel in Boudh.
Day 06 : Boudh - BissamCuttack
After breakfast proceed to BissamCuttack, enroute visiting Phulbani and Kutia Kondh villages. Dinner and overnight at BissamCuttack.
Day 07 : BissamCuttack - Jeypore
Very early morning visit one of the Dongeria Kondh villages and trek down the hills along with the tribals to their Wednesday weekly market at Chatikona. After visiting it have your breakfast and proceed to Jeypore enroute lunch at Koraput. Dinner & overnight at hotel in Jeypore.
Day 08 : Jeypore On Early morning have your breakfast at Lamtaput and visit the Thursday weekly market at Onkadeli, which is visited by the Bondas who trek down the Bonda hills. Then visit one of the Gadaba villages followed by their Surcha dance. After lunch at Lamtaput, visit a Paraja village and witness yet another dance of the Parajas. Dinner and overnight at Lamptaput or Jeypore.